Chef Garnish - World of Fruit & Vegetable Sculpting DVD

,

Chef Ray Duey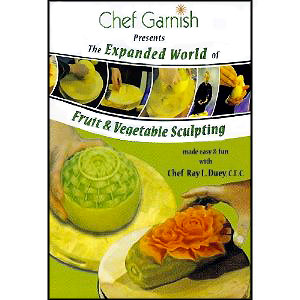 Master fruit carving instructor Chef Ray Duey's new DVD covers 11 new fruit & vegetable carvings and an in-depth overview of carving tools and how to use them. This is a follow-up to his first Fruit and Vegetable Sculpting DVD. With over an hour and a half of new and unusual fruit and vegetable carving techniques, this DVD is a must for those who want to continue to expand their garnishing and carving skills.
Chef Ray Duey was a contestant on Food Network Challenge, The Rematch: Fantasy Fruit Sculpture which aired in 2010. In the TV rematch, Chef Ray, won the gold medal, teamed with fellow fruit carver Chef James Parker.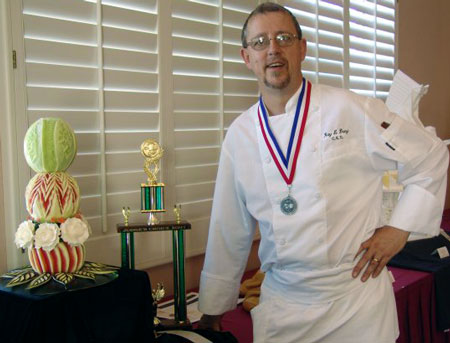 For the rematch, Chefs Parker and Duey created a towering tropical-themed fruit and vegetable carving from more then 100 pounds of produce. Parker and Duey's winning sculpture, "Treasures Lost, Paradise Found," towered over six feet tall and portrayed the bottom of the sea complete with a treasure chest and shipwrecked boat. A landscape complete with a cascading waterfall, colorful carved tropical birds, papaya snakes and tropical veggie flowers carved from candy cane beets, rutabagas, turnips, chili peppers and rhubarb completed the sculpture.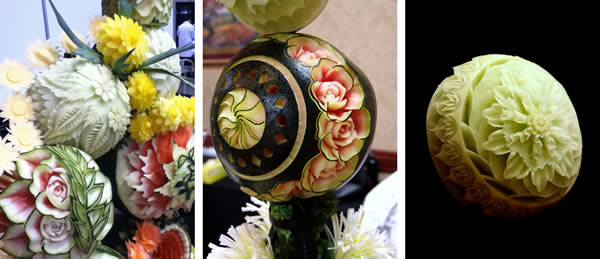 Examples of Chef Ray Duey's beautiful carving creations - note these carvings are not featured on the DVD

Chef Duey is a certified executive chef and member of ACF California Capital Chefs Association. He has spent the last two decades developing his carving skills and creating fruit and vegetable sculptures for weddings, events, classes and seminars. His company, Chef Ray Presents, teaches the fine art of fruit and vegetable carving to culinary professionals. Duey has received numerous awards in national and international competitions. He has authored two DVD's - please also see his Fruit and Vegetable Sculpting DVD.
Images © Chef Ray Duey 2011
RETURNING DVDS:
Please note that we do not offer refunds on DVD products but will gladly replace faulty items due to manufacturing defects. Please see our returns policy for more details.
Also see more of Chef Duey's fruit carving DVDs and recommended tools and knives:
Availability: Ships in 2-3 business days from Los Angeles, California.
Category: Fruit Carving DVDs
SKU: 7000450625