Basic Fruit and Vegetable Carving DVD

,

James Parker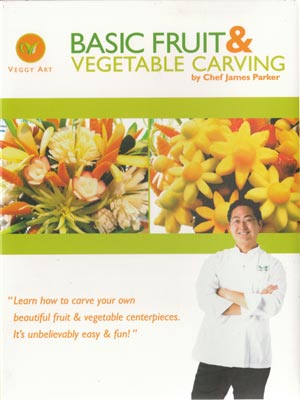 In this fruit carving DVD, professional chef James Parker leads you to easily carve simple fruit and vegetable edible bouquets to garnish the table. Learn how to create two edible vegetable and fruit centerpieces with clear step-by-step instruction.
Made on location in exotic Thailand, Chef tours an outdoor food market to first select the best fruits and vegetables available for carving. Then back in the kitchen, the basic carving techniques are laid bare, to create a vegetable centerpiece and a colorful fruit bouquet which are unbelievably easy and fun!
Chef Parker's company, Veggy Art, teaches you how to create artistic centerpieces and garnishes. Chef Parker teaches a contemporary and attractive technique of arranging common fruit and vegetables to enhance the dining table, whether as a conversation piece for a dinner party or for a catered event for hundreds of guests. Both culinary professionals and amateurs are welcome to attend vegetable and fruit carving classes led by Chef Parker throughout the USA (please see his website for schedules).
Since Veggy Art's beginning, Chef has sold garnishes, created edible bouquets, performed carving demonstrations, and taught classes all over the country including the White House, Bloomingdale's, the U.S. Air Force, the U.S. Marine Corp, the Ritz Carlton Hotel in Los Angeles, Dean and Deluca, Lacademie De Cuisine, Balduccis in New York, and Sur la Table.
Chef Parker was awarded first place at the Food Network Challenge: Fantasy Fruit Sculpture competition. Shot on location in Hawaii, four fruit sculpting gurus transformed over one hundred pounds of produce into tropical sculptures towering over five feet. Using a variety of fruits and vegetables, the professional carving competitors carved, peeled and sliced their way to the $10,000 prize. Another similar Food TV fruit and vegetable carving competition, The Rematch: Fantasy Fruit Sculpture, aired in 2010 and again James Parker took the gold paired with Chef Ray Duey (aka Chef Garnish).
Also see SITCA How to Carve Fruits & Vegetables DVD and Chef Ray Duey's Fruit and Vegetable Carving DVD
Availability: Ships in 2-3 business days from Los Angeles, California.
Category: Fruit Carving DVDs
SKU: 7100000347