The Culinary Art of Fruit & Vegetable Carving

,

Wan Hertz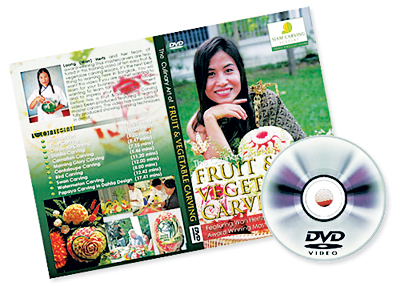 This is the perfect fruit and vegetable carving DVD for beginners and professional carvers. Award-winning Thai master carvers including Laong (Wan) Hertz teach 10 Fruit & Vegetable Carving Lessons in this culinary training video. Never before has a Fruit & Vegetable Carving DVD been produced such as this, featuring a team of Thai master carvers.
Both amateur carvers and professional chefs will appreciate the detailed step-by-step lessons. Learn for your own enjoyment to impress your dinner guests or to improve your marketable culinary skills. This DVD has been beautifully produced showing carving techniques in close-up detail. The Introduction shows and explains the correct way to hold the carving knife, how to shop for fruits and vegetables suitable for carving, and the proper methods of preparing them before beginning to carve in order to achieve the finest results.
Learn to carve watermelon, honeydew melon, cantaloupe, papaya and carrot. Learn how to make centerpieces, serving vessels, flowers, birds, and garnishes from cucumber peels and carrots turning them into beautiful leaves for plate decorations.
Availability: Ships in 2-3 business days from Los Angeles, California.
Category: Fruit Carving DVDs
SKU: 7100000665