Flower Peeler

,

Product of Taiwan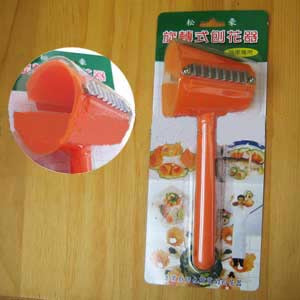 Flower peeler imported from Taiwan, can make your ordinary decorating job to be fascinating one. Many kinds of fruit and vegetable like carrot, cucumber, potato, and others can be easily cut into curls with this peeler. To use, insert the fruit or vegetable inside and roll it. The blade will cut the fruit skin to be beautiful strip. You can roll the strip into a curl or ring to make a flower shape.
Made from plastic in proper size made this utensil easy to use and clean. To clean, wash, rub with dry clean cloth and keep in dry place to avoid rust.
Also see other peelers.
Availability: Ships in 2-3 business days from Los Angeles, California.
Category: Cutters, Peelers & Graters
SKU: 6250000548