Carving Melon Flowers DVD

,

Nita Gill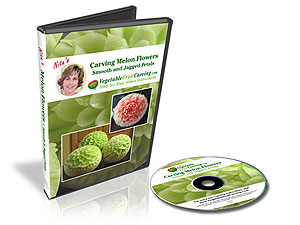 These DVD lessons will teach you the secrets of Thai melon flower carving. Learn to carve impressive Thai melon flowers in no time.
This DVD teaches you the next steps after the Vegetable and Fruit Carving 101 Course and the DVD Carving Watermelons - Roses, Buds, and Leaves. If you already know the basics and are ready to pick up some new techniques, this DVD, including two lessons, is the right choice for you.
The carving designs may look complex at first, but the step-by-step instructions on this DVD make the designs attainable to the fruit carving student. The flowers are intricate, but the steps can be followed even by a beginning fruit carver. They will also hold the attention of intermediate and experienced carvers who want to advance their carving repertoire and enhance their skills.
This DVD is designed for people who have already completed the lesson Carving Watermelons - Melons, Buds, and Leaves. The two lessons on this Carving Melon Flowers DVD are designed for people who want to learn the specific skills of Thai melon carving. Nita learned these traditional techniques from teachers who grew up in Thailand. You will learn these skills just like she did, as if you are looking over a teacher's shoulder, then practicing what you've just learned.
The video is clear, of high-quality and filmed in real time. One advantage of video instruction is that you can pause the lesson and learn at your own speed, or go back and re-watch sections of video to review what you've learned. This DVD includes instructions for several different kinds of petals and the finishing designs to create ruffled or scalloped edges. These two lessons include 1 hour and 41 minutes of instructions.
The first lesson will teach you how to make smooth petal designs, which prepare you for the more-complex jagged-petal designs in the second lesson on the DVD. These two techniques allow you to mix-and-match these flower petal designs to create your own unique melon flower. Video 1 teaches you to make a honeydew melon with smooth petals.
In Video 1 you will learn how to:
Select a melon and your carving tools
Carve the initial circle, the first row of petals, and finally fill in the inner petals
Carve the outer petals and fill in the outer rows of petals -Carve petals, stems, and leaves with pointy tips
Avoid and fix common mistakes
Finish your design with a scalloped-edge pattern
Display and store your finished melon carving
Video 2 teaches you a melon flower with zig-zag edged petals. You will learn how to:
Select the right carving tools
Begin a circle and carve inward-facing jagged-edged petals
Carve outward-facing jagged-edged petals
Avoid cutting off petals, and how to fix this mistake
Make a wavy ruffled or scalloped finished edge
Use a knife most effectively, remove trimmings with your knife, position your carving for greatest comfort, and how to take care of your fruit carving knife
Display your carved melon
These designs work on any kind of melon, though the green, white, and red contrast of a watermelon is particularly spectacular. You can also use these techniques on fruits and vegetables like papayas, mangoes, yams, turnips, and daikon radishes. Carving on soap lets you create beautiful flowers that stay crisp longer. Nita recommends the Thai Pro Flexible Blade Knife for these projects.
Also see Nita's Complete Set of 11 Veg and Fruit Carving DVDs.

Availability: Ships in 2-3 business days from Los Angeles, California.
Category: Fruit Carving DVDs
SKU: 7100000657