Exquisite Vessels, Vegetable and Fruit Carving Book (2)

,

Srisiam Printing Press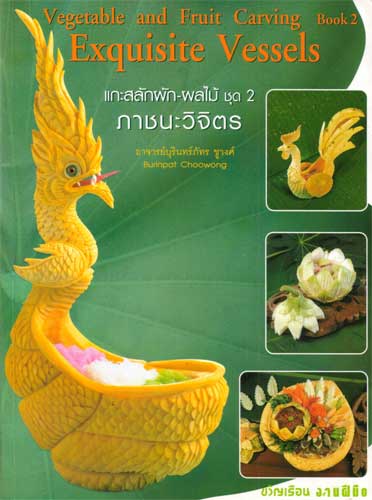 In this gorgeous intermediate to advanced level carving book you will find illustrated step-by-step instructions for intricate Thai-style carvings for pumpkins, watermelon, papaya, taro, and gourds. Information about the best carving tools and basic carving instructions are included.
Fruit and vegetable carving instructions include:
Pumpkin: Rose Dish, Golden Lotus Dish, Sunflower-Shaped Plate, Flowery Plate, Bee Bowl, Golden Rose Decorated Bowl, Golden Tray, Golden Casket, Rose Petal Covered Bowl, Golden Lotus Petal Covered Bowl, Fish Scale Patterned Bowl with Lid, Facing Upward Lotus Bowl, Ivy Basket, Golden Heart-Shaped Plate, Naga-shaped Jar, Cock-Shaped Bowl, Golden Casket, Gliding Swan Bowl, Golden Dahlia Patterned Dish.
Papaya: Blooming Rose Decorated Bowl, White Flower Decorated Bowl, Sea Shell-Shaped Container, Bright Colored Rose Bowl
Taro: Pagoda-Shaped Covered Bowl
Gourd: Lotus Petal Pear-Shaped Container
Watermelon: Watermelon Basket Carving (see directions for how to make this centerpiece basket for serving fruit salad)
Vegetable & Fruit Carving Exquisite Vessels, Book 2, by Burinpat Choowong; ISBN-10: 9749241452 ISBN-13: 978-9749241462; 88 glossy pages with color photos; Copyright © 2005 Srisiam Printing Press Co, Ltd.; Languages: Both Thai and English.
International customers: please see our online check out for UPS shipping costs and also see International Shipping.
From the same author also see:
Availability: Ships in 2-3 business days from Los Angeles, California.
Category: Fruit Carving Books
SKU: 7000450265