Variety of Flowers, Vegetable and Fruit Carving Book

,

Srisiam Printing Press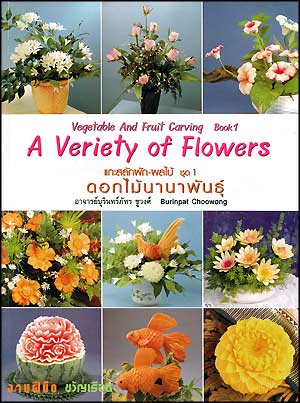 As the title of this book suggests,the Variety of Flowers, Vegetable and Fruit Carving Book, is predominantly concerned with examining one branch of traditional Thai carving in detail, which is floral-type arrangements of carvings. The flower carvings addressed here range from the delicate to the bold, interspersed with Thai mythical creatures and animals to enhance displays. As with many of the fruit and vegetable carving books on offer at the Temple of Thai, this book contains beautiful full-color photographs, detailed illustrations and step-by-step guidelines to help readers accomplish even the most complex of the featured designs.
With its accessible style and layout, this book is intended primarily for carvers who are interested in focusing on one particular area of fruit and vegetable carving, regardless of their skill level. The book begins with a section on basic flower carving from which even novice carvers can gain a thorough understanding of the skills required to complete larger arrangements. Many of the more complex flower designs dealt with after the introduction are merely embellishments of the initial patterns. Burinpat also draws attention to the particulars of arranging carved flowers together to produce a finished article, which often requires care and patience in order to refrain from damaging the carvings.
A Variety of Flowers begins with a ten page introduction that deals exclusively with the basic carving techniques and the specialist carving tools required for creating stable carved floral arrangements. The ninety pages following the introduction contain a combination of color photographs, clear illustrations, and straightforward guidelines for fashioning a variety of floral presentations.
Most of the flowers arrangements fall into one of three general categories: bouquets, baskets, and vases. In some cases the suggested baskets and vases themselves are carved out of fruit; these displays are particularly impressive because they are not only beautiful but also almost completely edible. The book covers various types of carving instruction including:
Vegetables: carrot, turnip, yam bean, green gourd, chili peppers, taro, sweet potato, radish
Fruits: pumpkin, papaya, dragon fruit, watermelon, green mango
Carving instructions: Carrot Rose, Daikon Radish Rose, Green Papaya Lotus arrangement, Jicama (Yam Bean) Petunia Vase, Turnip/Jicama Rose Bouquet and Vase, Lotus-Shaped Dragon Fruit Basket, Carved Pumpkin Carnation Bouquet, Watermelon Carvings, Animal Carvings including a Jicama Rooster and Taro Elephant, Chili Pepper Flower Cluster Basket, and Thai Mythical Figures (e.g. Naga, Kinnaree) and even a Buddhist temple.
Quote from the book: "Various kinds of flowers that are in full bloom add attractiveness to nature. We have employed such beauty for crafts and decorations in our daily life extensively. This book is a presentation of the various types of creative carving of vegetables and fruits, inspired by the natural beauty and imagination of the creative art of carving. Lively petals, flowers, clusters, and carving techniques are born out of the author's imagination and serve as a guide for practical use. Practices require patience and diligence regardless of doubt. Skills and creativity necessary for distinctive works are what can be obtained from trying and imagination."
About the author: Burinpat Choowong, is presently the head of the art department at the Saeng-arun School in Bangkok. As one of the youngest masters of Thai fruit carving in Thailand, Burinpat enjoys an excellent reputation after having appeared on a number of popular national television programs and as a guest lecturer in many universities throughout the country.
A Variety of Flowers, Vegetable & Fruit Carving, Book 1, by Burinpat Choowong, © 2005 Srisiam Printing Press Co, Ltd.; ISBN 974-92414-6-0; 104 glossy pages with full page color photos; Languages: Both Thai and English, imported from Thailand.
International customers: please see our online check out for UPS shipping costs and also see International Shipping.
From the same author, Burinpat Choowong, also see:
Availability: Ships in 2-3 business days from Los Angeles, California.
Category: Fruit Carving Books
SKU: 7000450264