Soap Carving Tools Set with Bag

,

Temple of Thai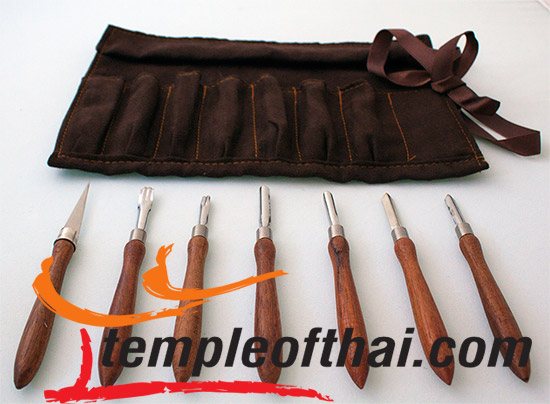 Our new and improved Soap Carving Tool Set with Bag includes everything you need to get started carving soap. Designed in Thailand, this set of 6 tools with knife set (total of 7 pieces plus bag) were designed specifically for the art of soap carving. The heads of the six tools are very small for very fine detailed carving work. Much smaller in scale compared to our Garde Manger Carving Sets for Fruit Art and Melon Carving, they are ideally suited to carving soft, small bars of soap. Our tools are packaged in a washable handmade fabric roll bag, attractively tied shut with a ribbon, to keep your tools sharp and clean when not in use.
The six tools include one small and one large each of 3 shapes: U-shaped, V-shaped and Corrugated U cutters. The strong straight, V-pointed blades have a sharp cutting edge, and they are excellent for grooving or finishing small areas of the carving. The U-shaped cutters have sharp rounded blades. The corrugated or zig-zag shaped cutters can be used for carving flower petals.
Additionally, the thin blade flexible carving knife was designed for working with the soft surface of soap and is comparable to our Thai Flexible Carving Knife in our fruit carving section. The knife is used when the tools cannot and to neaten and finish the carving design. This specially designed knife has a very sharp, very pointed, flexible blade which is ideally suited for the art of carving soap.
A thin blade paring knife should be used to start carving, as almost all soap has raised lettering or a trademark molded onto the surface. These, and any projecting edges or rounded corners should be smoothed off with a paring knife, so that patterns can easily be traced onto a smooth surface. It is very important to this before beginning to carve.
Approximate measurements: These soap carving tools are very lightweight with wooden handles. Handmade in Thailand. Wood handles 3.5" (9cm); metal tips 3/4" (2cm).
Availability: Ships in 2-3 business days from Los Angeles, California.
Category: Soap Carving Tools & Books
SKU: 6250000663
UPC: 794504280302