Step-by-Step Illustrated Carving Book (in Thai)

,

Sangdad Books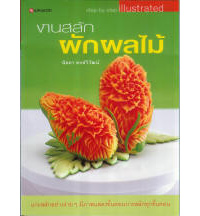 Beautiful carvings and garnishes are well illustrated in numerous photos and Thai script only (no English) in this modern new book imported from Thailand.
This book is suitable for intermediate to advanced carver with at least some experience because the instruction is only in Thai. But with the detailed photos the technique is possible to follow.
Carvings and garnishes range from basic to ornate classical Thai-style such as: carrot flowers created with cutters, simple eggplant leaves, easy cucumber baskets, elaborate watermelon flowers (as pictured on the cover), red radish stars, and even a pumpkin turkey!
Published by Sangdad, © 2003, 245 pages; full color, high quality glossy pages; 10 1/4" x7 1/4"; soft cover. ISBN 9789747588804
You will find step by step carvings for the following fruits and vegetables:
Vegetables: carrot, cucumber, zucchini, tomato, chili pepper, daikon radish, miniature and Japanese eggplant, pumpkin, radish, leeks, ginger, lemon, scallion, white onion, napa cabbage, beets & red cabbage.
Fruits: papaya, apple, guava, mango, rose apple, watermelon, cantelope, dragon fruit & more.
International Customers - please use our online cart to find out shipping costs via UPS international.
Availability: Ships in 2-3 business days from Los Angeles, California.
Category: Fruit Carving Books
SKU: 7000450239