Art of Thai Vegetable & Fruit Carving + Free Knife

,

Hobby Maker Press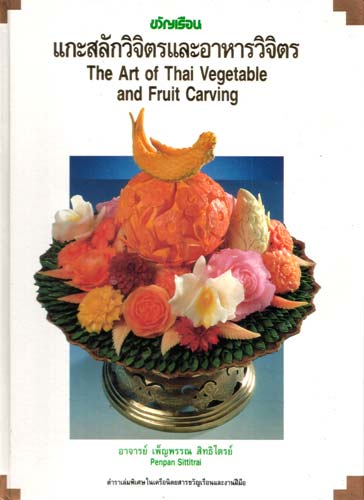 The Art of Thai Vegetable and Fruit Carving is the largest and most encyclopedic book available for carvers who want to study all varieties of Thai carving in one convenient book. This carving book is unique in its complete coverage of presenting Thai food with exquisite carvings and it is essentially two books in one.
Written by Thai fruit carving expert, Penpan Sittitrai, the first part of the book, Thai Vegetable and Fruit Carving focuses entirely on step-by-step carving instructions, each with their own corresponding full-color photographs, detailed instructions, and sketched illustrations. Each carving idea is categorized according to fruit. Download a free carving tutorial from this book here.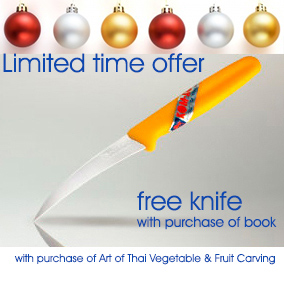 In the second half of the book, Vegetable And Fruit Carving In Thai Food, traditional Thai recipes are artfully presented in more elaborate carved vessels, containers, bowls and platters (see list of recipes and carvings below). Each of the photographs contained within this section include their own relative carving instructions and recipes.
All-in-all, this is a sizable compendium of the art of fruit and vegetable carving, filled with stunning pictures and detailed instructions. Written by one of the most respected Thai fruit carving artists in Thailand today, it is as elegant as it is useful, being an enduring favorite and a real treasure for any fruit carving enthusiast.
Book Details: The Art of Thai Vegetable and Fruit Carving, Published by Panida Chobvanicha © 1990, color hard cover, 186 glossy pages with large photographs, imported from Thailand.
From the introduction:

Through my own appreciation, I have studied and devotedly practiced this art. Moreover, I have adapted its functions to the present social conditions. That is to keep the art's original elaborate beauty as well as to enable it to be appropriately useful in cooking and decoration nowadays. That is why I have personally tried to teach many students throughout the country and some from abroad and have brought this knowledge to the public via publications, videotapes, and television programs.
What I am very proud of and want to point out to everyone is that with one fruit carving knife and without the aid of any other kinds of instruments, many carved fruit pieces are made. The art is then the real Thai treasure passing from one to another for many generations. Eventually, I want to trust this worthy art in the hands of younger generations since I would appreciate its lasting existence.Author Penpan Sittirai
The appendix of this fruit carving book includes:
Different styles of leaves
Basic carving designs
Dahlia design
Four different shapes of petals
Butterfly design
Waterlily design
Jasmine flower design
Rose design
Banana leaf tray
Part I. The Art of Thai Vegetable And Fruit Carving
| | |
| --- | --- |
| Pumpkin | Sweet Potato |
| A Basket Full Of Flowers | Beautiful Sweet Potato |
| A Bush Of Coreopsis | Potato |
| A Yellow Bouquet | Ducklings |
| A Golden Bowl | Yam Bean |
| A Glazed Basket | Yam Bean Carved Into Flowers |
| Graceful Mate Peacocks | A Squirrel On A Branch |
| Vegetables Carrying Basket | Paradise Gander |
| A Basket Decorated With Hibiscus | A Lamp |
| Decorated Menu | Victoria Lotus |
| Watermelon | Baskets With Slings |
| Carved Zinnia | Marvellous Basket |
| Yellow Watermelon | Papaya |
| A Flowery Pedestal | Flowery Boat |
| A Watermelon Carved With Flower And Leaf Design | Ginger |
| Twin Swans | Beautiful Pickled Ginger |
| A Decoration Made From A Watermelon | Garlic |
| A Basket Full Of Varieties Of Flowers | Fancy Jasmine |
| Mango | White Radish |
| A Basket Of Mangoes | An Ivory |
| Warblers In Nests | Pineapple |
| Mangoes Carved Into Flowers | Pineapple Oxcart |
| Rabbits And Flowers | Apple |
| Delicious Durian | Twin Swans |
| Mate Mangoes | Agar |
| Pomelo | Twin Chickens |
| Blooming Lotus Basket | Crystal Roses |
| Baskets With Slings | Soap |
| The Three Buddies | Carved Lotus |
| Guava | Climbing Rose |
| Delicious Guavas | The Most Beautiful Soap |
| Carved Guava In Flower And Leaf Design | Pink Roses |
| Rose Apple | Flower Baskets With Sling |
| A Beautiful Bowl | |
| A Mouse And Flowers | |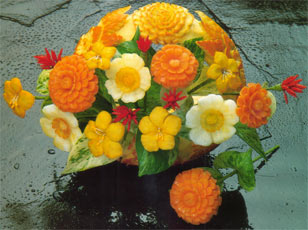 Part II. Vegetable And Fruit Carving In Thai Food
Delicious Young Pepper Sauce Served in Ripe Carved Papaya Elongated Topaz Plate Deocrated wtih Gold Pieces
Carved Papaya Boat-Shaped Ark Clam Shells
Desserts Boiled In Syrup
Fish Stuffed Puffs served on Papaya Golden Leaf Plate Lined with Bronze
Chicken Brisket Cooked With Wine Served in Papaya Container
A Bowl Of Ruby And Emerald Carved From Green Chilli and Tomato
White Lotus Carved Bottle Gourd Bowl
Rainbow Salad Served in Papaya Bowl
Pumpkin In Sugar And Coconut Milk Served in Covered Pumpkin Container
The Three Buddies Served in Ripe Papaya Boat: Golden Drops, Preserved Indian Jujubes and Preserved Endocarps
Delicious Pomelo Salad Served in Pomelo Bright Green Bowl
Tasty Pork Curry in Coconut Zircon Bowl
Delicious Egg in Wax Gourd Bowl
Beet Red Ruby Bird In The Garden
Fried Bananas Served on a Banana Leaf Plate
Cashew Apple in Syrup (Anacardium) Served in Guava Topaz Bowl
Melon In Coconut Milk And Syrup Served in Cantelope Blossoming Lotus Bowl
Taro Sweet Drops in Beet Root Garnet Bowl
A Bowl Of Golden Sweets Carved Pumpkin Container
Wax Gourd Cooked with Ground Pork
Rendezvous Watermelon Serving Bowl with Spicy Seafood Salad
Carved Mango Container for Serving Thai Pork
Jello Served in Carved Sapodiallas
Scented Rice with Fried Shrimp Paste, Fried Sweetened Beef, Stuffed Red Onions, Fried Sweetened Black Ray, Fried Sweetened Turnips, Carved Vegetable Condiments: mangoes, galangal, turmeric root, chilli peppers, spring onions and cucumbers
Also see: Complete Step by Step Vegetable & Fruit Carving, Thai Exquisite Cuisine & Art of Vegetable and Fruit Carving, Art of Vegetable Garnish, Hobby Maker Press, and Messages Found with a Carving Knife.
Availability: Ships in 2-3 business days from Los Angeles, California.
Category: Fruit Carving Books
SKU: 7000450262