3" Fruit Seeding Knife, Yellow Handle, #001B

,

Kom Kom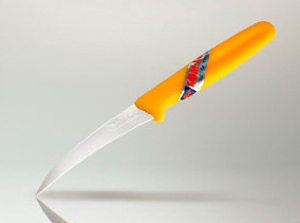 This 3"Fruit Seeding Knife from Kom-Kom is one of the three essential fruit carving knives. Its unique shape is designed to make difficult carving tasks more easy and accessible.
Designed with a longer blade then other types of fruit carving knives, it is primarily suited for removing seeds from fruits, carving in tight areas, and preparing fruits and vegetables as a preliminary to carving. Sometimes it is referred to as a 'curved carving knife' and of the two seeding knives from Kom-Kom, this is the only one with an easy-to-clean plastic handle.
The usefulness of this type of knife may not be apparent at first. The seeding knife can be used to access difficult-to-reach areas of a fruit or vegetable carving in order to make needed cuts or carry out reparations. For instance, when carving a container out of melon, for example, the seeding knife is ideal for extracting intrusive loose pieces and to insure that the deep inner corners of the vessel are well-defined.
This curved blade carving knife is considered to be one of the three essential fruit carving knives required to follow the instructions in our vegetable and fruit carving books as well as those featured in our fruit carving guides.
Kom-Kom brand knives from Thailand are produced to an exceedingly high standard, boasting superior specifications to their less expensive Kiwi brand. Known by reputation to be the very best knives that Thailand has to offer, Kom-Kom's designs are both attractive and practically suited for everyday use. Their stainless steel blades consist of a dense carbon alloy that is first heat-treated and then carefully tempered to ensure long-lasting sharpness and unrivaled durability.
This knife also available as part of our: Fruit & Vegetable Garnishing Knives, Tools Set and Fruit & Vegetable Carving Knives Set.
Product details: Total length 17 cm. (6.69"). Blade 7 cm. (2.76"), handle 10 cm. (3.93")
Product Features
Genuine Kom-Kom brand knife imported from Thailand
One of the three essential fruit carving knives
Carve in tricky areas that other knives can't reach
High-quality hardened stainless steel blade
Well balanced with dishwasher-safe plastic handle
Kom Kom product no. 001B, 3" Fruit Knife Wood Handle, bar code 8851130060028
Availability: Ships in 2-3 business days from Los Angeles, California.
Category: Seeding Knives, Bird's Beak Knives
SKU: 6251100247
UPC: 88511300600