Vegetable & Fruit Carving Knives, Set C

,

Kom Kom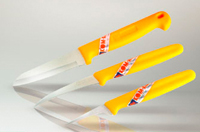 These plastic handled Kom-Kom fruit and vegetable carving knives form a set of only the most vitally important fruit carving tools. This knife set is exceedingly popular due to the quality of the blades, the easy-to-wash handles and overall durability of the product.
This set of imported Thai knifes is the Temple of Thai's most popular Kom-Kom brand set. It includes a paring knife, a seeding knife, and bird's beak carving knife for more detailed work. Lightweight, easy to clean and hard to stain, this set is the best choice for productivity and cost-effectiveness. Whether you're a dynamic cook working under pressure or an avid hobbyist on a budget, the 'Set C' knives is an excellent choice. The exact length of each knife blade in the set is as follows:
Each of the knives in this set are also available individually though it is worth noting that they are often used in conjunction with each other. Regardless of difficulty levels, popular fruit carving books such as Step-by-Step Fruit and Vegetable Carving and Thai Exquisite Cuisine indicate that paring, seeding, and bird's beak knives are necessary requirements for following the lessons they contain.
Kom-Kom knives are produced to an exceedingly high standard, boasting superior specifications to their cheaper selling variant, Kiwi. Known by reputation to be the very best knives that Thailand has to offer, Kom-Kom's designs are both attractive and practically suited for everyday use. Their stainless steel blades consist of a dense carbon alloy that is first heat treated and then carefully tempered to ensure long-lasting sharpness and unrivaled durability.
Product Features
Genuine Kom-Kom brand knives imported from Thailand by Temple of Thai, USA
The three most vitally important fruit carving knives in one set
Perfect for cooking as well as creating intricate fruit carvings
High-quality hardened stainless steel blades
Well balanced with dishwasher-safe plastic handles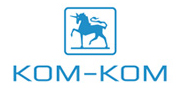 Availability: Ships in 2-3 business days from Los Angeles, California.
Category: Kom Kom Knife Sets
SKU: 6251100198
UPC: 88511300612