Thai Exquisite Cuisine & Art of Vegetable and Fruit Carving

,

Srisiam Printing Press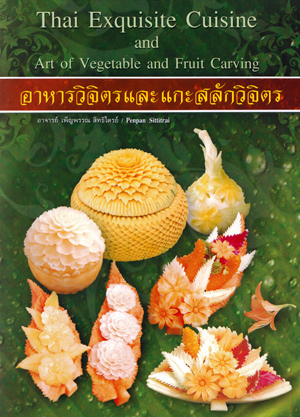 Recently republished by popular demand, this detailed vegetable and fruit carving book provides exquisite examples of some of the most elaborate and fascinating fruit carving techniques. All of the fruit carvings have been beautifully captured in full-color photos and include comprehensive descriptions and guidelines. This book is densely filled with over fifty diverse step-by-step carving procedures.
Born in the Northeast of Thailand, author Mrs. Penpan Sittitrai has been practicing the art of fruit carving for over sixty five years and has published five books on the subject.
After opening with a short introductory letter written by Mrs. Sittitrai, the book is divided into two sections. The first twenty pages cover a range of simple carving techniques for making smaller items like Fretwork Leaves and Lotus Flowers. The second and largest section contains detailed photographs and plain, intelligible diagrams that demonstrate the more challenging designs. Each of the carving displays in this section are remarkable works of art; quite possibly some of the finest examples of Mrs. Sittitrai's dramatic style.
See a step-by-step Carved Pumpkin Bowl from this carving book.
Even though this book contains a sizable array of very complex carving ideas, it begins with a number of simple carving techniques to help ease the reader into a higher stage of proficiency. In Mrs. Sittitrai's own words. "This book was written to express and promote the elaborate beauty of vegetable and fruit carving and Thai culinary art that is a unique cultural heritage of Thailand. In addition, it is to demonstrate that this beauty can be applied and enjoyed in daily life and modern-day functions as well as in various ceremonies."
Fruits & Vegetables included in this book:
Vegetables: ginger, carrot, cabbage, eggplant, bottle gourd, white gourd
Fruits: pumpkin, mango, papaya, apple, tomato, watermelon, cantaloupe
"Since I was a young girl, I have studied and devotedly practiced the Thai art of vegetable and fruit carving. In addition to the original forms, I have invented a variety of new forms. I have also adapted original functions to modern needs and lifestyles and promoted a wider use, while maintaining the artist's original elaborate beauty. In addition, I have applied and integrated this art with the Thai culinary art and other forms of art and decoration. With the intention of maintaining this tradition and expanding its use, I have put efforts in disseminating and transferring the knowledge and skills by teaching and advising students as well as individuals and institutions in Thailand and abroad. I have published my work as educational books in Thai and English and have regularly disseminated work through magazines and newspapers as well as television programs." Quote from the book's introduction
Thai Exquisite Cuisine and Art of Vegetable and Fruit Carving, by Penpan Sittitrai, Srisiam Printing Press © 2009, soft back, 101 glossy pages with full page color photographs, in both English and Thai language, imported from Thailand.
International customers: please use our online checkout to determine the shipping amount via UPS and also see our International Shipping Terms for another shipping option.
Availability: Ships in 2-3 business days from Los Angeles, California.
Category: Fruit Carving Books
SKU: 7000000464