Art of Vegetable Garnish

,

Hobby Maker Press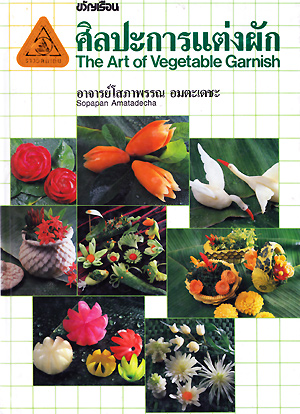 Very few carving books contain as much detail as The Art of Vegetable Garnish, making this a must have book for the professional chef de garde-manger or caterer.
Of all the fruit and vegetable carving books presently on offer at the Temple of Thai, this is the only one that is dedicated specifically to the carving of vegetables. Packed solid with detailed instructions and beautiful photographs, this book is a convenient tool for any chef who might wish to convert a simple salad into a work of art in a matter of minutes.
Each vegetable has its own introduction which offers advice on how to choose the right kinds of vegetable and how to prepare and preserve them correctly. The book also features an illustrated glossary to help readers distinguish between a profusion of different carving terms that refer to both the tools and techniques concerned. Also included is a short concluding statement followed by a number of different ideas for using up leftover vegetable cuttings (i.e. making pickles).
The Art of Vegetable Garnish provides an extensive table of contents in which each section is labeled with the vegetable that it focuses on. As such, it's always easy to find an interesting idea incorporating the vegetable you plan to carve. Containing a massive total of one hundred and twenty two different garnishes, this is perhaps the most exhaustive and comprehensibly indexed vegetable carving book on the market.
Vegetable Carvings: onion, garlic, tomato, cucumber, carrot, radish, pumpkin, eggplant, red radish, and a mixed vegetables section that includes potato, sweet pepper, large chilies, taro, beetroot, squash, bitter gourd, and cabbage.
More details about the book: Detailed instructions with step-by-step photographs and close-ups show you how to transform common vegetables into delicate butterflies, lotus flowers, birds, baskets and more. Each vegetable is given a thorough study including onions, garlic, tomatoes, cucumbers, carrots, radish, pumpkins, eggplant and radish. The sheer number of unique ideas for each type of vegetable ensures that the right choice is just a few page turns away. For instance, Amatadecha provides simple instructions for transforming a single carrot into any one of eighteen different designs including candle-vases, forest roses, spider flowers, and chickens. In terms of accessibility, this book contains a broad range of different carvings ranging from very simple to moderately complicated. Overall most of the carvings presented are both elegant and easy to do.
About the author: Sopapan Amatadecha is presently one of the personnel at the Suan Dusit Teachers College in Thailand and frequently speaks as a guest lecturer at Bangkok universities. In The Art of Vegetable Garnish she has compiled an overwhelming amount of content that's sure to keep even the most devout carving enthusiast busy for a very long time indeed.
Book Details: The Art of Vegetable Garnish, Panida Chobvanicha Press © 2003, color hard cover, 168 glossy pages with full page color photographs, imported from Thailand. Written by renowned Thai carving expert Sopapan Amatadecha (aka Sophaphan Amatadecha). ISBN-10 9748682463.
International Customers:
Please see our online check out for UPS shipping costs and also see our International Shipping page for a less expensive method of shipping.
Availability: Ships in 2-3 business days from Los Angeles, California.
Category: Fruit Carving Books
SKU: 7000450149