Sakura Flower Radish Garnish
Here we present a simple vegetable carving, using the common red radish, which is available year round in the USA but is especially fresh in the summer months from the garden or farmer's markets. By adding the art of food presentation to your plate, you will make the presentation of your food as important as the taste. This garnish technique is suitable for both the home and professional kitchen. You'll be sure to impress your dinner guests!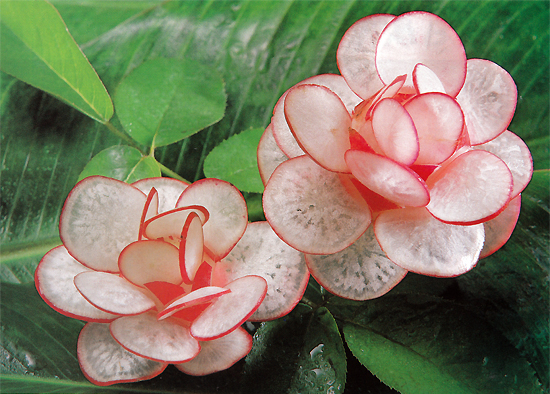 Materials Needed
Step by Step Carving Directions:
Instructions : Sakura Radish Flower Carving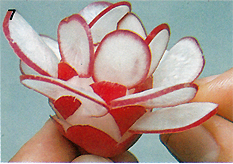 Use an egg-shaped radish, slice into thin pieces, soak in cold water.
Use the round radish, cut out the stem.
Chip into tiny squared top.
Chip off into petals all around to insert the sliced pieces.
Chip off into 3 layers, alternate.
Pin in the sliced pieces according to the size

Source:
The Art of Vegetable Garnish
See more fruit and vegetable carvings step-by-step at Temple of Thai, your online source for carving and garnishing tools, knives, books and DVD's.
Also see two more Radish Flower garnishes and more tutorials for fruit and vegetable carving.