Messages Found with the Carving Knife

,

Pam Maneeratana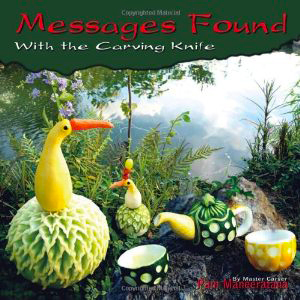 Anyone who is interested in learning not just the basics of how-to carve fruits and vegetables in the traditional Thai style, but how to elevate their garnishing craft into an art, should check out the new carving book, Messages Found with the Carving Knife, by Thai fruit carving master, Pam Maneeratana. Those looking for a knowledgeable and inspiring teacher for the art of Thai fruit carving need look no further.
Pam's creative style of Thai fruit carving expresses not only her own artistic vision, but also brings to life many parts of Thai culture. Previously, the fine art of fruit carving was not widely known outside of Thailand, but her photographs and instructions teach readers how to bring life from the seemingly dead harvested fruits and vegetables – for instance, a single pineapple, can be transformed into a graceful, lively swan. Pam says this book is a testament to her passion for the art of fruit and vegetable carving, and the culmination of a life-long goal. She explains "My purpose in this book is to spread knowledge of this art form and to share my experience and joy. Like my husband always said to me when I had a mental block, 'Finish your book then you can die,' and here is my book (but I plan on living many more long years sharing this art)."
Pam began to study the 700-year-old art of Thai fruit and vegetable carving, Kae sa luk, in her hometown of Bangkok. Though she began studying at 13 years old, under a skilled instructor who had been trained in the Thai Royal Palace, Pam did not discover her passion for Thai fruit carving until later on. In fact, her first lessons bored her, and she nearly did not pass her carving exams. It was a move to the US in 1979 that reawakened Pam's interest in this art form. Culture shock and the language barrier made Pam feel isolated, and compelled her to explore her own cultural heritage through fruit and vegetable carving. Carving also distracted her from her daughter's difficult health condition, and she eventually found that carving was, for her, a "meditative sanctuary."
Pam used the abundance of fruits and vegetables in her family's restaurant in Tallahassee, FL to improve her skills as she returned to this art with a renewed passion. She revisited her old lessons and brought her own flare and interest to her carvings. After this period of renewal, Pam began teaching carvings to others, and has now been demonstrating Thai fruit and vegetable carving to Americans for more than 20 years. In 1985 she was honored with the US flag flown over Tallahassee on August 26th, 1985 from Congressman Don Fuga, and in 1989 the Florida Department of State Division of Cultural Affairs granted her an individual Artist Fellowship Award. In 1989 she presented and spoke at the annual Catering Expo in Las Vegas.
Also see Pam's excellent fruit and vegetable carving DVD's: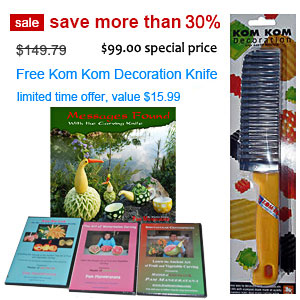 Fruit Carving Book & 3 DVD Set
Buy everything you need in one click! Get Pam's carving book, Messages Found with the Carving Knife and 3 Fruit carving DVDs. With this set you will be carving fruit and vegetables like a professional in no time.
Buy now and receive a Free Kom Kom brand Decoration Knife (limited time offer). Retail value $15.99.
Learn how to carve edible arrangements, watermelons and traditional Thai flowers with Pam's step by step DVDs. Be inspired to new heights of creativity with her beautifully photographed carvings set in nature.
Click Here!
Availability: Ships in 2-3 business days from Los Angeles, California.
Category: Fruit Carving Books
SKU: 7100000626