Watermelon Cakes Carving 2 DVD Set

,

Nita Gill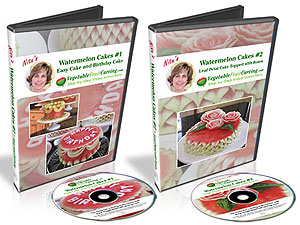 Watermelon Cakes are a new way to express Happy Birthday or Congratulations in a healthy, beautiful and stylish way. Learn from master carver, Nita Gill, how to quickly create different styles of cakes carved from watermelon. Ideal for a summer event, this type of cake will win the hearts of those watching their weight, looking to add more fruits to their diets and diabetics and others who need to cut their sugar and wheat flour intake. This DVD set consists of two DVDs with 3 melon carving lessons:
Watermelon Cakes Carving #1 DVD: Perfect for beginners and for those times when you want to create a quick watermelon cake at a moments notice, this DVD teaches you how to carve a HAPPY BIRTHDAY Cake with scalloped edges and carved swags on the sides.
Watermelon Cakes Carving #2 DVD: Learn to carve beautiful and intricate looking watermelon cakes inspired by Thai-style melon carving techniques featuring leaf like petals on the sides and topped with carved watermelon roses and leaves.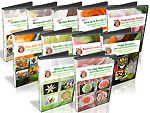 Complete Set of 11 Veg and Fruit Carving DVDs
Nita Gill's vegetable and fruit carving DVD course teaches you how to create beautiful fruit and vegetable carving centerpieces and garnishes.
Availability: Ships in 2-3 business days from Los Angeles, California.
Category: Fruit Carving DVDs
SKU: 7100000662