Complete Set of 11 Veg and Fruit Carving DVDs

,

Nita Gill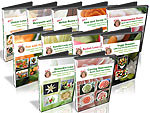 These veg and fruit carving DVDs from professional carving instructor, Nita Gill, offer top quality instruction at a reasonable price. Both amateur and professional fruit carvers will appreciate the wide range of carving ideas presented in these DVD videos. Her tutorials are perfect for fruit carvers because Nita explains the carving techniques in detail, demonstrating how to carve step-by-step, so that you can really understand how to create the patterns and learn a few carving tricks. Nita will be your perfect carving teacher! The lessons are available separately or as a set.
A fruit carving knife is required to complete the course - Nita recommends Fruit and Vegetable Carving Knives, Set A (Kom Kom brand) or even better, the Thai Flexible Carving Knife, because it is so sharp, and can maneuver with ease like a pen.
The eleven lessons in this set are:
Learn to carve onion lotus flowers and small lily pad flowers. This lesson creates intricate flowers for display, to hold dips and sauces, or to steam and add to a meal.

Assemble a bouquet of brightly-colored fruits yourself, instead of purchasing an expensive arrangement. Adding a whimsical butterfly makes the bouquet a perfect gift or a special occasion decoration.

This adorable bunny-shaped melon bowl is a perfect container for fresh fruit salad. These calla lilies, carved from fennel, are an elegant decoration for your spring celebrations.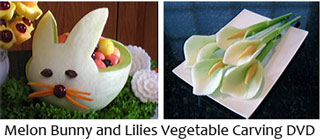 Learn to carve beautiful flowers from yams, and fresh green leaves from cucumbers.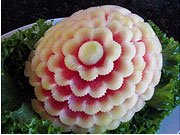 Watermelon carving can be intimidating, but by using a corrugated U-cutter, you can create a beautiful watermelon flower quickly and easily.
With these simple to follow step-by-step lessons you will soon be creating impressive watermelon table centerpieces to amaze your friends and dinner party guests.
Bell and chili peppers can be a dynamic part of your carving arrangements. Learn to make bell peppers into festive bowls, flowers, and even palm trees, and to turn chili peppers into delicate, spicy flowers.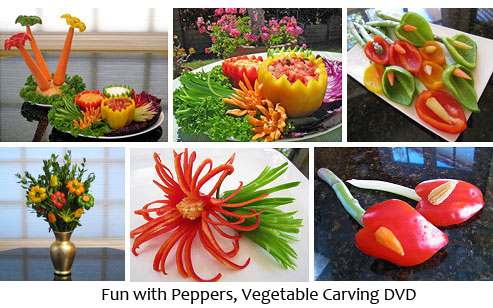 With their dramatic coloration, radishes are a great choice for fruit carving. Learn to make nine kinds of radish flowers, and display them in a bouquet.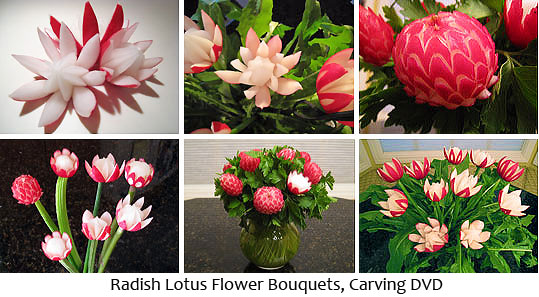 Spray flowers from leeks and onions are a fast and easy way to add variety and interest to your arrangements. Also learn charming garnishes for a plate, like onion curls.

Start with a no-carve vegetable crudites bouquet, and add carved jicama flowers for a special touch. Of course, all of it is edible!

Use the skills from your earlier lessons to make intricate honeydew lotuses you can carve two from a single honeydew. Carved flower centers dress up these honeydew flowers.

Watermelon carving is one of the most magical parts of Thai fruit carving. In the final lesson, you will learn to carve flowers, rosebuds, and detailed leaves from a ripe watermelon.

Video clip from the Yam & Turnip Flowers Carving DVD
Availability: Ships in 2-3 business days from Los Angeles, California.
Category: Fruit Carving DVDs
SKU: 7100000646
UPC: 661799689700