Fanciful Leeks and Onions Vegetable Carving DVD

,

Nita Gill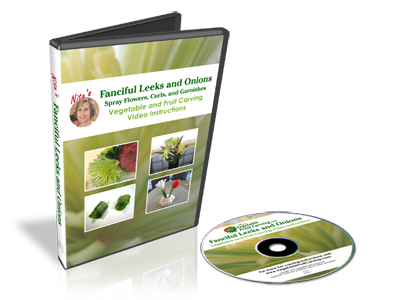 In this instructional vegetable carving DVD, professional fruit carver Nita Gill teaches you how to carve onions and leeks into onion curls, garnishes, fancy stems, spray flowers, and whole bouquets. These projects are not as exacting as many Thai fruit carving projects, and you can have great results quickly. These leeks and onions make great garnishes for savory dishes, or use them to dress up a vegetable platter.
Onions and leeks curl and unfurl to make dynamic, organic flowers that you can quickly make and add to your edible arrangements. These kinds of flowers offer you many chances to be creative, depending on the length of the leek, the angles of your cuts, and the length of soaking time. This DVD shows you the basic techniques, and gives you all of the tools you need to improvise.
Green onion flowers should be made shortly before you plan to serve them, or at most a day in advance. Leek flowers, if stored correctly, will look good for 2-3 days.
In this vegetable carving DVD there are 3 sections:
Section 1 Nita shows you the basics of creating leek flowers, then fanning them out in cold water.
Section 2 Teaches you to make simple curls from green onions. A handful of these curls looks great and tastes delicious atop a bowl of soup or dish of hot potatoes. You also learn to carve spray flowers from green onions.
Section 3 Shows you how to carve the leftover top of the leek into a base to display flowers in a large arrangement.
For this project you will need 3 or 4 leeks and a few bunches of green (spring) onions. You also will need a fruit carving knife (Nita recommends Kom Kom brand, Fruit and Vegetable Carving Knives, Set A), a paring knife, a large knife, a pair of scissors, a bowl of ice water, long bamboo skewers, a vase, and a florists frog. Toothpicks, wire cutters, and floral wire will also be useful.
To learn even more fruit and vegetable carving styles, techniques and presentations see the complete details for Nita's Vegetable and Fruit Carving Video Course 101 on DVD.
Complete Set of 11 Veg and Fruit Carving DVDs
Nita Gill's vegetable and fruit carving DVD course teaches you how to create beautiful fruit and vegetable carving centerpieces and garnishes.
Availability: Ships in 2-3 business days from Los Angeles, California.
Category: Fruit Carving DVDs
SKU: 7100000642
UPC: 885007161172