Onion Lotus Flowers Vegetable Carving DVD

,

Nita Gill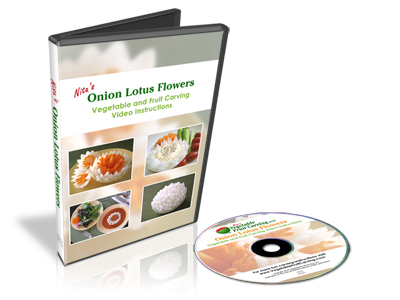 You will learn how to make simple Onion Lotus Flowers in this step by step vegetable carving DVD from professional fruit and vegetable garnishing teacher, Nita Gill. This carving project is quick to learn and an enjoyable way to explore the art of Thai vegetable and fruit carving.
This DVD teaches you a variety of different onion lotus flowers and small lily pad flowers. It also teaches you how to use carrots and slices of celery to make decorative centers for your onion lotus flowers. An onion's many layers make it easy for even new carvers to create beautiful lotuses filled with intricate petals.
Nita's onion lotuses are a simple project with lots of room for creativity. Depending on the size of your onion, and the center you choose, you can create an array of large onion lotuses, or a few different small lotuses from a single onion to fill out an arrangement. She suggests six different ways to customize your onion lotuses with different ingredients, colors, and techniques.
These vegetable flowers can be a simple but memorable garnish for holiday meals, or added into edible bouquets. Place a few onion lotus flowers next to your savory dishes or fresh salads. Dress up an ordinary vegetable crudites tray with an onion lotus bowl for sauces and dips. These onion lotuses are edible, so steam or microwave a lotus until it is tender, then float it atop a bowl of hot soup for a decoration that is delicious and elegant.
This is a basic lesson that does not require any special tools for fruit and vegetable carving . To complete this lesson, you only need a sharp paring knife*, a large sturdy knife for slicing, a vegetable peeler (see our excellent Pro-Peeler Pink Straight-Edged Tool), a bowl of ice water and some toothpicks.
Go shopping for a few large onions, a few wide carrots, a bunch of celery, and a few pearl onions or shallots. Different colors and sizes of onions add visual interest. You can dress up these lotus flowers with cherry tomatoes, too.
*Fruit carving knife is not required, but useful; Nita recommends Kom Kom brand, Fruit and Vegetable Carving Knives, Set A. Long bamboo skewers are useful if you plan to add your onion lotus flowers to an edible bouquet.
These onion lotus flowers are yet another of the many vegetable and fruit carving projects taught by Nita. To learn even more fruit and vegetable car ving styles, techniques and presentations see the complete details for Nita's Vegetable and Fruit Carving Video Course 101 on DVD.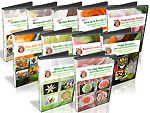 Complete Set of 11 Veg and Fruit Carving DVDs
Nita Gill's vegetable and fruit carving DVD course teaches you how to create beautiful fruit and vegetable carving centerpieces and garnishes.
Availability: Ships in 2-3 business days from Los Angeles, California.
Category: Fruit Carving DVDs
SKU: 7100000635
UPC: 885007150442