Watermelon Flowers Carving Using Corrugated U-Cutters DVD

,

Nita Gill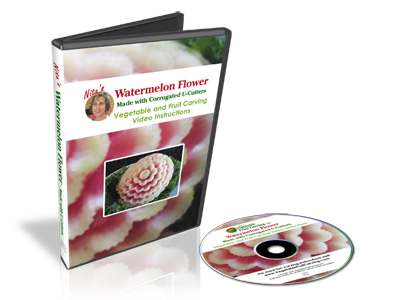 In this instructional DVD, professional fruit carver Nita Gill teaches you how to create beautiful watermelon flowers using corrugated U-cutter carving tools. This techniques is quick to learn and gives impressive results. Intricate watermelon flowers are some of the most famous and impressive creations of Thai fruit carving. Using a corrugated U-cutter makes simple and beautiful watermelon flowers. Learn to carve an entire watermelon into a beautiful flower, as a centerpiece to your buffet or a festive decoration, or how to carve one flower from each half of an entire watermelon.
This lesson is a great introduction to carving watermelons and other carving techniques. Also, you can use corrugated U-cutters to make flowers from other fruits, like melons or mangoes. Your guests will be impressed with the effort you put into these flowers and the gorgeous presentation of your carved flowers.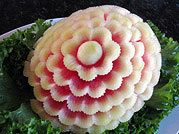 In the first section, Nita shows you how to peel a watermelon for carving, using either a knife or a ceramic mega-peeler. The second section teaches you how to use the corrugated U-cutters to define the edges of your petals, giving them an intricate wavy texture. She also tells you how to correct any mistakes, like the accidental cutting of petals. The carved watermelon can be displayed whole, or the flower may be cut out to display on its own.
These fresh fruit carvings will stay attractive for up to a week in the refrigerator, if stored correctly. In this DVD, Nita shares her recommendations for storing and serving these beautiful carved flowers.
To complete this project you will need a watermelon, and fresh greens if you choose to use them in your display. You will also need a fruit carving knife (Nita recommends Fruit and Vegetable Carving Knives, Set A, Kom Kom) or paring knife, corrugated U-cutters, a plate, and possibly toothpicks or sewing pins. A Kyocera Megapeeler is optional, but will make this project easier.
Complete Set of 11 Veg and Fruit Carving DVDs
Nita Gill's vegetable and fruit carving DVD course teaches you how to create beautiful fruit and vegetable carving centerpieces and garnishes.
Availability: Ships in 2-3 business days from Los Angeles, California.
Category: Fruit Carving DVDs
SKU: 7100000639
UPC: 885007157151