Melon Bunny and Vegetable Lilies Carving DVD

,

Nita Gill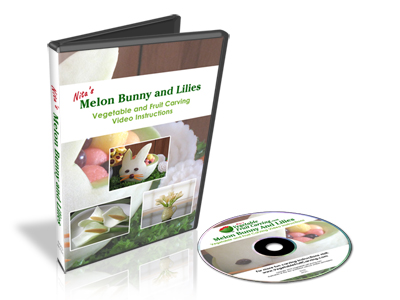 This instructional carving DVD features two whimsical fruit and vegetable carving projects - bunnies carved from melon and carved calla Easter lilies. These carved decorations are especially perfect for spring celebrations or Easter gatherings. This step-by-step video shows you everything you need to know.
The guests at your next dinner party are sure to be delighted with these elegant calla lilies and adorable melon bunnies. These projects are simple to make and always elicit big reactions! Even children who might be picky about eating fruit love to eat these bunny melon baskets, filled with fresh fruit salad. The carved melon bunny baskets are quick to make, and create a whimsical presentation as a fruit or candy basket.
The carved vegetable calla lilies are as elegant as real lilies and are suitable for decorations and for eating. A single carved calla lily on each plate is a tasteful table dressing. Place the carved lilies in vases like real flowers, or combine them in a bouquet with other carved fruits and vegetables. You can eat the carved lilies raw with a dip, or brushed with olive oil and grilled.
In the first section, you will learn how to carve a bunny-shaped basket from a ripe melon, complete with raisin eyes, a grape nose, and carrot whiskers. This non-traditional carving project creates an eye-catching Spring display in just a few minutes. Of course, you can still eat the melon afterwards, as part of your fresh fruit salad.
In the second section, you will learn to use stalks of fresh fennel and pieces of baby corn to make edible calla lilies with pretty yellow stamens. Calla lilies are a traditional spring and Easter decoration. A single bulb of fresh fennel is enough to make a bouquet of calla lilies. Fennel stalks are brittle, and Nita shares techniques for fixing any small carving mistakes. Nita also has suggestions for cooking any leftover fennel and baby corn scraps.
To make the bunny basket, you'll need a cantaloupe or honeydew melon, raisins, fresh grapes, one carrot, and different-colored fresh fruits to dress up your salad. You will use a large knife and a medium-sized melon baller. A fruit carving knife and a seeding knife are not essential, but they will make this project easier - Nita recommends Kom Kom brand, Fruit and Vegetable Carving Knives, Set A.
For the calla lilies, you'll need fresh fennel and baby corn. You'll also need a large knife, a paring knife or Bird's Beak Fruit Carving Knife, and toothpicks.
To learn even more fruit and vegetable carving styles, techniques and presentations see the complete details for Nita's Vegetable and Fruit Carving Video Course 101 on DVD.

Complete Set of 11 Veg and Fruit Carving DVDs
Nita Gill's vegetable and fruit carving DVD course teaches you how to create beautiful fruit and vegetable carving centerpieces and garnishes.
Availability: Ships in 2-3 business days from Los Angeles, California.
Category: Fruit Carving DVDs
SKU: 7100000637
UPC: 885007150985