Bouquets and Butterflies Edible Bouquet Carving DVD

,

Nita Gill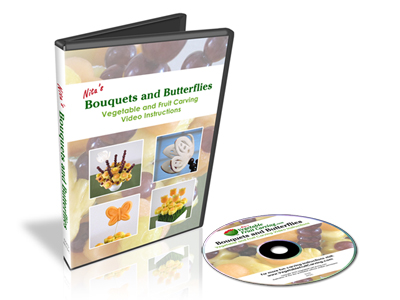 In this instructional DVD, professional fruit carver, Nita Gill teaches you how to make your own Edible Bouquets. You will learn how to carve simple vegetable and fruit butterflies, easily cut flower shapes using floral cutters and turn your creations into a floral centerpiece.
Creating these type of popular edible bouquets at home, instead of ordering from a store, is an economical and creative way to make gifts that your friends will love! These bouquets are also a simple and whimsical way to explore the art of fruit and vegetable carving.
In the DVD Nita offers many creative ideas. The DVD includes instructions for two different kinds of fruit bouquets, and two kinds of butterflies. First, Nita will show you how to create an edible fruit bouquet using pineapples, cantaloupe, and grapes. Then find out how to top your bouquet with a carved turnip butterfly to make the arrangement even more attractive. Nita also teaches another bouquet - a cute Square Garden - also made up of cantaloupe, pineapple and grapes. You can then use these same techniques to create a vegetable bouquet served with savory dipping sauces as a vegetable crudites.
All kinds of fruits can be used in the bouquets. Any type of melon, like cantaloupe, watermelon, or honeydew, can be cut into flower shapes, and you can further vary your designs by cutting crinkle edges into the fruit. Skewer small fruits like strawberries, grapes, or even kumquats and add them to the bouquet. Chocolate-dipped strawberries or kiwis sliced or cut into wedges and inserted to the bouquet would add an extra touch. Try serving these edible fruit bouquets with a dip like vanilla yogurt or Greek yogurt.
When making your edible fruit bouquet, you can select fruit in a few different ways. Either use whatever fruits are freshest at your market, or pick a color or two and then pick fruits that match your color theme. Red grapes, strawberries, and blackberries create a beautiful purple and red bouquet, while oranges, honeydew, kiwi, and kumquats create a spectrum of green and orange. Pineapple, honeydew, and cantaloupe combine to create a pastel design.
Friends and family will love these beautiful and delicious bouquets, covered in carved fruit butterflies and of course, the whole bouquet is edible! Children will love to dig into these colorful bouquets of fresh fruit and adults will enjoy eating this impressive display of fruit.
Tools and Knives you will need to complete this DVD: *Fruit carving knife or paring knife, flower-shaped cookie cutters or fondant cutters (which you can buy at most cooking, baking and craft stores), long bamboo skewers, a large knife for slicing (see our 8" Chefs Knife, #21, Kom Kom), melon baller and corrugated U-cutter tool (see our 4 Serrated U Garnishing Tools Set).
*Fruit carving knife is not required, but useful; Nita recommends Kom Kom brand, Fruit and Vegetable Carving Knives, Set A.
To learn even more fruit and vegetable carving styles, techniques and presentations see the complete details for Nita's Vegetable and Fruit Carving Video Course 101 on DVD.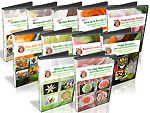 Complete Set of 11 Veg and Fruit Carving DVDs
Nita Gill's vegetable and fruit carving DVD course teaches you how to create beautiful fruit and vegetable carving centerpieces and garnishes.
Availability: Ships in 2-3 business days from Los Angeles, California.
Category: Fruit Carving DVDs
SKU: 7100000636
UPC: 885007148401