Veggy Bouquet with Carved Jicama Flowers DVD

,

Nita Gill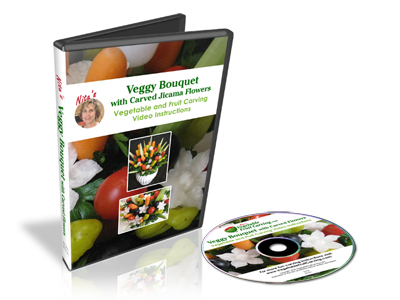 When you need a special plate garnish, but just do not have time to carve something, try out this edible vegetable bouquet, no carving required! This DVD from professional fruit carver Nita Gill shows you how to assemble a no-carve vegetable crudites bouquet for when you just do not have time to carve. When you have a little more time, she also teaches you to carve a jicama flower to make your bouquet even more special.
Section 1 Shows you how to assemble an edible bouquet of vegetable crudite. Starting with a base of fresh greens, you can create a festive bouquet that your guests will love to eat. Vegetables like baby carrots, cherry tomatoes, celery sticks, and olives have a great place in this arrangement. Or try unconventional choices like cauliflower, pickles, and even balls of mozzarella!
Section 2 Teaches you to carve three different kinds of jicama flowers to tuck into your bouquet. Use the techniques from this video to carve jicama flowers with any root vegetables you have on hand. Jicama is ideal, but daikon, yams, turnips, and beets can be turned into beautiful carved flowers, with a range of natural colors. Russet or white potatoes are not ideal for creating these flowers, because they tend to oxidize and turn yellow. You can still practice on these, though, then steam them and eat them afterwards. The skills you learn when carving jicama flowers will help you carve intricate melon patterns.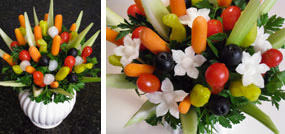 Assemble your edible bouquet as close as possible to when you plan to serve it. The jicama flowers will keep for a day or two refrigerated in water.
You will need to purchase fresh vegetables for the bouquet, and 1 or 2 medium jicama roots or other root vegetables. You can choose your favorite fresh vegetables for the bouquet, whatever is fresh at the market, or whatever matches a particular color scheme. Have your favorite slicing knife on hand, along with a paring knife, a fruit carving knife (Nita recommends Kom Kom brand, Fruit and Vegetable Carving Knives, Set A), smooth U-V cutters, large bamboo skewers, food coloring, and a small paint brush like those available from a craft shop.
Complete Set of 11 Veg and Fruit Carving DVDs
Nita Gill's vegetable and fruit carving DVD course teaches you how to create beautiful fruit and vegetable carving centerpieces and garnishes.
Availability: Ships in 2-3 business days from Los Angeles, California.
Category: Fruit Carving DVDs
SKU: 7100000643
UPC: 885007163251