Yam & Turnip Flowers Carving DVD

,

Nita Gill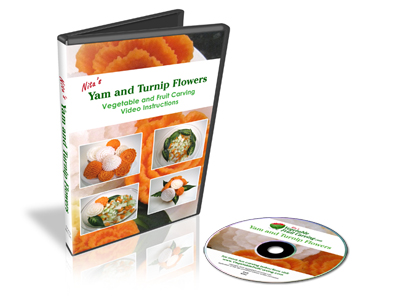 This carving DVD teaches you how to make five variations of vegetable flowers using Corrugated U Carving Set for Fruit Art. Professional fruit carver, Nita Gill also shows you how to make four different styles of cucumber leaves. The same patterns of leaves can also be applied to apples, carrots, cabbage and squashes. Next learn how to assemble your carved vegetable flowers and leaves into a beautiful bouquet. Find out the secrets of keeping your carved bouquet looking fresh and how long to expect the carving to last in this instructional DVD.
Step-by-step video instructions show you how to make carved vegetable flowers from yams, turnips and jicama. To make the flowers in the DVD, Corrugated U Carving Set for Fruit Art are required. Optional tools to have on hand are our U and V Garnishing Set and a fruit carving knife or birds beak knife. You can also use a paring knife to make the leaves but a fruit carving knife makes the job easier.
"Even from the very first time that I made these flowers to bring to a Thanksgiving Dinner, I always get ooohs and aaaahs over these intricate looking flowers. And they are easier to make than you might think. Once you know how, you'll see how easy they are." Nita Gill, professional fruit and vegetable carver

---

Hearts & Roses Fruit Carving DVD
Also see Nita Gill's Hearts & Roses Vegetable & Fruit Carving Lessons DVD.
Availability: Ships in 2-3 business days from Los Angeles, California.
Category: Fruit Carving DVDs
SKU: 7100000624
UPC: 885007147930