Honeydew Melon Lotus Carving DVD

,

Nita Gill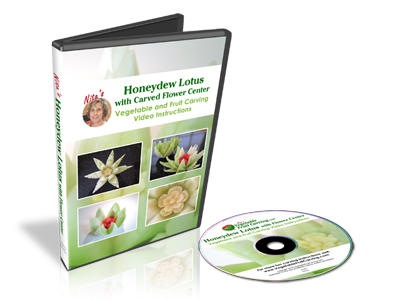 In this instructional fruit carving DVD, professional carver Nita Gill teaches you how to carve beautiful lotus flowers from honeydew melons. Your guests will love the time and effort you spent on this display, and they'll be even happier to learn that these flowers are edible!
For an eye-catching centerpiece, buffet display, or for serving a meal, try these honeydew lotuses with carved flower centers. Or place a honeydew lotus in the center of a platter, surrounded by fresh fruit, to create a beautiful fruit arrangement.
You can also carve these lotuses from other kinds of melons. Make a large arrangement by carving several melon lotuses in different sizes from several kinds of different-colored melons. There are a number of techniques for carving lotuses, which lets you pick your favorite methods based on their appearance and how much time you have to carve. This DVD covers many of these techniques.
Section 1 shows you how to carve honeydew lotuses with multiple layers of petals. One honeydew melon will make two lotus flowers. You can also place berries, grapes, or melon balls in the center of your lotus flower.
Section 2 teaches you how to make a carved flower center for your honeydew lotus. These delicate flowers can be dyed different colors to complement the melon lotus. You can change the texture and effect of these flowers by using corrugated or smooth U-V cutters. Nita suggests practicing these designs on potatoes first, as they are inexpensive and can be steamed and eaten later. The basic techniques Nita teaches you in this section can be used on other hard vegetables and fruits.
These honeydew melons can be carved a day ahead of time, and the root vegetable centers can be kept for a few days in the refrigerator. This project requires honeydew or another melon and a daikon, jicama, or turnip root.
To complete these projects, you'll need to use a pointed paring knife, a fruit carving knife, a seeding knife, a corrugated U-cutter, a smooth U-V cutter, a large spoon, food coloring, and a small paintbrush. Nita recommends Kom Kom brand, Fruit and Vegetable Carving Knives, Set A.

Complete Set of 11 Veg and Fruit Carving DVDs
Nita Gill's vegetable and fruit carving DVD course teaches you how to create beautiful fruit and vegetable carving centerpieces and garnishes.
Availability: Ships in 2-3 business days from Los Angeles, California.
Category: Fruit Carving DVDs
SKU: 7100000644
UPC: 885007167365