Radish Lotus Flower Bouquets Carving DVD

,

Nita Gill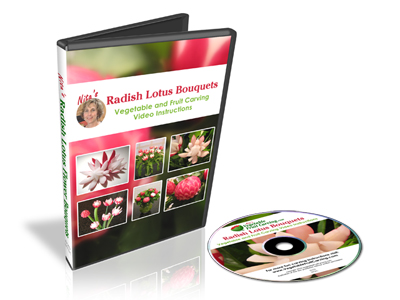 In this instructional vegetable carving DVD, professional fruit carver Nita Gill teaches you how to make ordinary radishes into beautiful flowers and bouquets. Radishes might not spring to mind first when you think of Thai fruit carving, but their bright red color dresses up any meal. Use these flowers as garnish, a centerpiece, or an edible, peppery part of a fresh salad.
Radishes are inexpensive to buy and available year round, making them a great vegetable to practice the art of carving. Their colors are attractive even without any carving, and the contrast between their white centers and red skin makes carving projects more dramatic and dynamic.
Add these radish flowers to a fresh salad, or attach a single flower to a slice of carrot with a toothpick and add it your place settings. These radish flowers are versatile, and you can use the technique to carve similar flowers from different vegetables. Carved radishes store for several days in the refrigerator.
This DVD shows you nine different kinds of flowers, two edible bouquets with different kinds of salad greens, and six kinds of stems from different kinds of vegetables. This is a simple lesson, and you should have satisfying results from your first try.
Section 1 Teaches you how to make lotus flowers from large radishes using a fruit carving knife. These flowers open and expand in a bowl of ice water. You can carve simple flowers or a more intricate design with multiple rows of petals. Nita tells you how to select radishes for your project, and suggests how to fix some common carving mistakes.
Section 2 Nita expands your range of radish flowers by showing you how to use U and V-cutters to make other, more intricate, radish flower shapes. You can use vegetables like asparagus or green beans as flower stems, and assemble them with greens in a beautiful bouquet. One advantage of making a bouquet from radishes is their long shelf life – you can make this arrange ahead of time, and display it for more than one day.
To complete these projects, you will need a few bunches of radishes, long green onions, greens of your choice, and asparagus, celery, or long green beans for flower stems.
You should also have a fruit carving knife or paring knife, corrugated U-cutter tool, smooth U-cutter tool, smooth V-cutter tool, a bowl of ice water, a vase, toothpicks, long bamboo skewers and a cutting board on hand.
Complete Set of 11 Veg and Fruit Carving DVDs
Nita Gill's vegetable and fruit carving DVD course teaches you how to create beautiful fruit and vegetable carving centerpieces and garnishes.
Availability: Ships in 2-3 business days from Los Angeles, California.
Category: Fruit Carving DVDs
SKU: 7100000641
UPC: 885007161158