Soap Carving Flowers (English & Thai language)

,

Srisiam Printing Press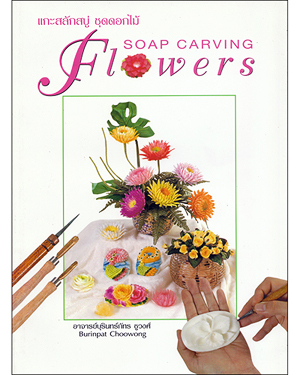 This Soap Carving Flowers book will teach you how to carve soap into artful flowers. It will act as a guide enabling you to create soap carvings via clear step-by-step descriptions and illustrations. Learn how to carve beautiful roses, chrysanthemums, lotuses, zinnia flowers and many more from a single bar of soap. Professional culinary carver, Burinpat Choowong has written the instructions in both Thai and English and provided illustrated steps to show how to carve detailed life-like flowers suitable for home decor or gifts.
Find out how to choose the right type of soap for carving, how to keep the soap in good condition for the best results and how to properly use carving knives. Then learn how to carve incredible flowers from soap, how to add color with acrylic paints and dyes and ultimately how to arrange your finished pieces into a floral-type bouquet for display.
"These exquisite designs of flower carvings on soap were created based on the author's experience with fruit and vegetable carving, intense research through various sources and imagination. The book emphasizes creativity through the presentation of various carving patterns. It may also be inspiration for those interested and artistic carvers in creating their own work and variety. The author has designed his carvings of soap to be relatively distinctive with an intention to enable carving lovers to put them to good use." Author, Burinpat Choowong.
The book includes all the information you need to create intricate flower pattern soap carvings.
Included in this soap carving book:
List of suggested soap carving tools:
Soap (Chang Cheng brand from Thailand is recommended)
Dyes
Acrylics
Soap carving tools (referred to as knives in this book)
Thin paring knives
Carving knives for soft surfaces ((included in our Soap carving tools kit)
Palette
Paintbrush
Plastic case for display
Step-by-step photos for carving 3 types of flowers.
Illustrated carving instructions for 26 flowers including lotuses, orchids, zinnias, chrysanthemums and roses.
Illustrated carving instructions for 7 bouquet and floral-type arrangements.
Details about soap carving: how to choose soap bars for carving, how to store carved soap, painting soap carving and how to use carving knives.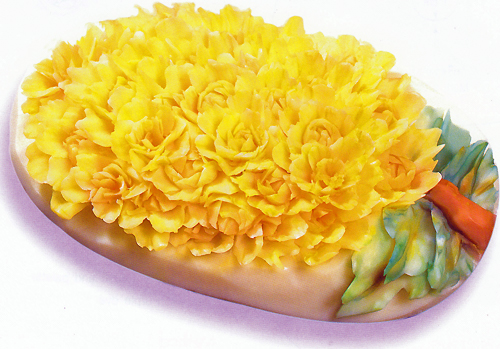 Availability: Ships in 2-3 business days from Los Angeles, California.
Category: Fruit Carving Books, Soap Carving Tools & Books
SKU: 7000000655