Fine Art of Vegetable & Fruit Carving (Gay-sah-lahk Vee-git)

,

Odeon

Sorry, This Product is Discontinued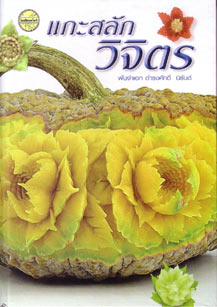 This in-depth advanced fruit & vegetable carving book written in Thai (no English) is carefully laid out with step-by-step photographs.
If you are looking for fruit carving books in English have a look at Vegetable Garnish Book or Ancient Thai Art of Vegetable Carving.

Numerous full-colored photos lead you to create gorgeous carvings with up to 25 individual photos per carving. Each finished carving is shown full page in a large photograph, so that you can study the details.
Please see a larger image of this book & an 18 step watermelon carving.
You will find detailed carving instructions for the following fruits & vegetables: watermelon, cantelope, green mango, jicama, yellow sweet bell peppers, pumpkin, green papaya, ginger root, beet, red sweet bell pepper, tomato, carrot, semi-ripe papaya, gourd, dragon-fruit, apple, banana flower, miniature eggplant, and more.
Fish, flowers, elephants, ducks, birds, and even gorgeous serving containers in classical Thai-style are presented with each step in a full color photo.
Details: Hard cover book with full color photographs on every page printed on high quality slick paper; 9 3/4 x 7 inches, 127 pages; in Thai only, no English. © 2004. ISBN 974-276-157-4
About the Author: This award winning Thai writer teaches fruit and vegetable carving all over Thailand.
Fine Art of Vegetable & Fruit Carving:
Positives: I found this book very detailed and easy to follow. The bonus is that one style of carving that I saw on someone's web site is in the book - it is about how to carve a big fruit over all. Wow!
This advanced carving book answers three of my pending questions that I had been wondering about. They are (1) how to carve the inside area of flowers (page 73), (2) how to use a knife with a straight blade, and (3)how to carve the large surface of a fruit/vegetable (page 85).
In order to advance to an upper level of Thai fruit and vegetable carving, knowing those three is a must and this book is an excellent source for intermediate carvers who are trying to figure them out. By following detailed step-by-step pictures, readers can learn advanced carving techniques such as (1) to (3).
Another helpful thing is that the book shows varieties of carving methods. Readers can alternate one carving step and achieve different looking carving at the end. Rounded petaled and sharp petaled tomato roses on page 56 are good examples.
Negatives: The book is written in Thai and Thai only. In order to receive a full instruction from this book, readers need to have some knowledge about Thai fruit and vegetable carving. The book does not provide explanation about angles that a carving knife and the surface of the fruit/vegetable are making. So readers have to guess how deep they should put their knives in at which angle when they are carving according to the book's projects.
Reviewed by Maki Takahashi, KY, USA
International customers: please use our online cart to preview UPS shipping options for our Thai cookbooks, carving tools, and books.
Availability: Ships in 2-3 business days from Los Angeles, California.
Category: Fruit Carving Books
SKU: 7000450229