Ancient Thai Art of Vegetable Carving

,

Vegetable Arts & Crafts Co.

Sorry, This Product is Discontinued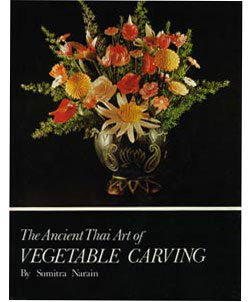 This vegetable and fruit carving book introduces the ancient Thai art of creating both intricate and simple food garnishes. It presents basic carving techniques with illustrations and step-by-step instructions for transforming common vegetables into decorative flower arrangements.
Following the simple techniques illustrated in this book, vegetables such as carrots, radishes, cucumbers, turnips, onions and fruits like pineapple, papaya, and watermelon can be intricately carved into roses, dahlias, lilies and vases.
The techniques in this book can guide even a beginner to create flowers and artistic designs of their own imagination. The easy-to-follow instructions accompanied by hand sketches will guide you to create a variety of stunning flowers and arrangements. The possibilities are as numerous as your imagination.
The book presents ideas for creating attractive table arrangements for different occasions ranging from children's parties to formal banquets. The author also incorporates her knowledge of Japanese Ikebana floral arrangements to create unique bouquets of carved fruits and vegetables.
Vegetables & Fruit Carvings in this Book
Cucumber, Radishes, Tomatoes and Chilies, Onions, Watermelons, Pineapples, Papayas, and Carrots
Example of the sketches that accompany the step-by-step carving instructions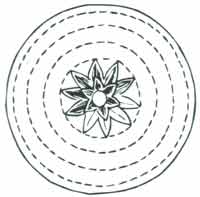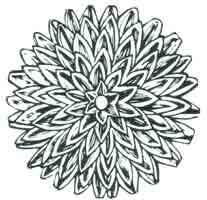 Pumpkin Carving example from The Ancient Thai Art of Vegetable Carving Book

Vegetable Carving instructions included in this book
Anthurium, Carrot Champaka Flower, Carrot Cosmos Flower, Carrot Rose, Chrysanthemum, Dahlia, Cucumber Basket, Fish, Cucumber Leaves, Cucumber Rice Barge, Cucumber Water Lily (3 types), Ginger, Gourd Vase, Onion Chrysanthemum (2 types), Onion Lotus, Lotus Bud, Papaya Sunflower, Papaya Vase, Pineapple Sliced, Pineapple Candleshade, Pineapple Turkey, Pumpkin Rose, Chrysanthemum, Dahlia, Red Radish Louts, Rosebud, Tulip, Spring Onion Curled, Tomato Tulip, Lotus, Tomato Peel Rose, Turnip Rose, Chrysanthemum, Dahlia, Watermelon Basket, Lotus, Watermelon Rose, Sunflower, White Rose Rose.
About the Author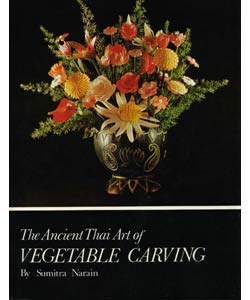 Mrs. Narain mastered and taught this art during her stay in Thailand. This book was instrumental in reviving the ancient art form, which was in danger of being forgotten. The first edition of this book, with a foreword by Her Royal Highness Princess Siriratna of Thailand, was released in 1977.
Mrs. Sumitra Narain, who hails from a family of artists in Bangalore, India, is a distinguished artist with extensive experience in the delicate oriental art of Vegetable Carving. During her stay in Bangkok, Thailand for 15 years, she learned, mastered and taught the art of Vegetable Carving to over 4,000 members of the Thai and international community living in Bangkok. In addition she has taught over 5,000 people in India, Italy and Mexico. Her work has been exhibited in several countries around the world including Thailand, USA, Canada, Mexico, England, Italy, and India. She has appeared in television programs in the USA (Asia Net), Canada, Italy, and India.
Mrs. Narain has exhibited the art of carving at several national and international events including the famous Dasara Festival in Mysore, India, SAARC in Bangalore, India, and horticultural shows in various cities in India. She has had the honor of being received by the late Prime Minister of India, Mrs. Indira Gandhi, at her official residence in New Delhi, where she presented the Prime Minister a unique bouquet of flowers made entirely out of fresh vegetables. Mrs. Narain has prepared and presented on various occasions similar flower arrangements to HRH Queen Rambhai Barni, HRH Princess Sirinthorn, and HRH Chulaporn of Thailand, and to the former Prime Minister of Thailand, Mr. Kriengsak, the former Prime Minister of Sri Lanka, Mr. Ranasinghe Premadasa, and the former Foreign Minister of Italy, Mr. Colombo. She has also presented a bouquet of flowers to Mrs. Kamala Devi Chattopadhyaya, who was chairman of the All India Handicrafts Board; chairman of All India Design Centre and vice-president of World Crafts Council.
Mrs. Narain was presented the Indira Gandhi Priyadarshini Award in 1994, for outstanding services achievement and contribution in arts. The International Publishing House, New Delhi, also selected her as The Best Citizens of India Award in 1999 for her powerful accomplishment, expertise, skill and talent in the field of Vegetable Carving.
Mrs. Sumitra Narain was the first to introduce the art of vegetable carving in India in 1974 when the Films Division of the Government of India commissioned a special feature on her art. This feature was shown all over India in several local languages. She has also taught the art of Vegetable Carving and Table Decoration to the staff of the Taj Group of Hotels, a leading five star hotel chain in India, and conducted special courses on the art at the Las Hadas Hotel in Mexico and various hotel groups and catering institutes in Italy.
From 1991 to 1993, on a special invitation from the Federation of Italian Cooks Associations, Mrs. Sumitra Narain gave over 90 demonstrations and lectures on the art of Vegetable Carving and Table Decoration in various cities in Italy. She has received several certificates, diplomas, letters of appreciation, and plaques in recognition of her dexterity and mastery of the art. Her work has also been featured in many Thai, Indian and Italian magazines and newspapers.
In addition to her talent in Vegetable Carving, Mrs. Narain is also well-versed in the art of Mysore traditional painting, textile collage, paper mache, copper etching, perfumed candle making, macramé, oil painting, crochet, embroidery, Janoor (an Indonesian art), and Ikebana.
For more fruit and vegetable carving floral bouquet instuctions also see: Vegetable & Fruit Carving Exquisite Vessel
Availability: Ships in 2-3 business days from Los Angeles, California.
Category: Fruit Carving Books
SKU: 7000450260