Soap Carving Book (English and Thai language)

,

Srisiam Printing Press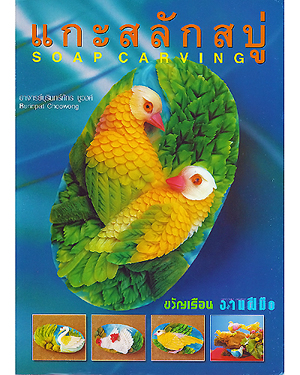 This Soap Carving book will teach you how to carve soap into artful birds, fish and mythical figures. You will learn to create soap carvings with clear step-by-step descriptions and illustrations. Find out how to carve beautiful angel fish, peacocks, swans, gold fish and many more. Professional culinary carver, Burinpat Choowong has written the instructions in both English and Thai and provided illustrated steps to show how to carve detailed bird and fishes suitable for home decor or gifts.
"The author has mastered his carving skills from vegetable and fruit carving as well as learning from experts such as Ajarn Penpan Sittitrai whose works are of distinction in the cultural field. Her devotion, determination and patience, are responsible for all the works that are widely recognized.
Soap carving is a form of the art requiring skill and creativity. The basics of selecting soap bars for carving, patterning, carving techniques, storing, and painting the carvings are essential for soap carvers. Combining technique has been adopted to add variety of soap carving." Quote from the author, Burinpat Choowong
SECTIONS IN THE SOAP CARVING BOOK:
Recommended Soap Carving Equipment
Paintbrushes for brushing off soap scraps and painting soap carvings
Sharp paring knives to smooth and refine the carving
Craft knives (bird's beak knife) with thin and sharp points
Soap carving tools to carve flowers or bird tails
Glue guns for attaching parts of animal or flower carvings
Artificial eyes attached with wire for animal carvings
Synthetic dyes for synthetic flowers
Craft acrylics or silver or gold carbon powder to make carvings shiny
Palette for mixing colors for soap carving
Selection and Storage of Soap Bars for Carving
Index of the Step-by-Step Soap Carving Instructions
| | | |
| --- | --- | --- |
| Basic Soap Carving | Red warbler | Ruby fish |
| Angelfish | White bantam couple | Maura |
| Pheasant | White female turkey | Peacock perching on a bough |
| Colorful warblers | Yellow-tailed bantam | White peacock |
| Mother bird feeding baby | Orange bantam | Peacock |
| Bird couple | Red-backed grouse | Wild duck |
| Yellow king fisher | Two-colored grouse | Swan |
| Red insect-eating bird | Yellow-tailed pheasant | Kilen (Mythical beast) |
| King fisher | Bantam herd | Nagha |
| Yellow backed warbler | Gold fish | Kinaree |
| Yellow warbler | Fighting fish | Matanapatha |
Availability: Ships in 2-3 business days from Los Angeles, California.
Category: Fruit Carving Books, Soap Carving Tools & Books
SKU: 7000000654