Watermelon & Fruit Carving with Nuntuna DVD, Lesson 2

,

Nuntana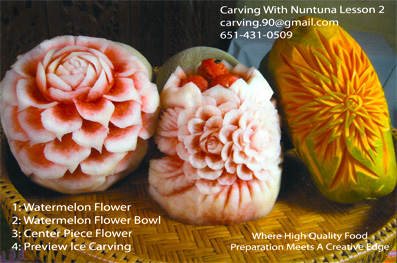 In this second fruit carving DVD from Nuntuna, you will continue learning the ancient art of Thai fruit and vegetable carving. Learn step-by-step how to transform everyday ordinary watermelons and papaya fruit into carved masterpieces.
You'll be amazed at what you can accomplish. The video shows each step in close ups so you can really see how the carving is done and its easy to replay the video to review the lessons. Training lesson #2 continues where Fruit Carving How To - Creative Carving DVD, Lesson 1 left off, with more advanced melon carving projects covering many techniques and even a preview of ice carving.
Watermelon and Fruit Carvings in this DVD:
Carved Watermelon Flower, Double Flower Pattern
Carved Watermelon Flower Bowl
Floral Centerpiece of Carved Fruits (Papaya fruit and other fruits)
Preview of Ice Carving
Recommended Carving Knives & Tools:
Images Copyright © 2009 Creative Carving, Nuntana
Availability: Ships in 2-3 business days from Los Angeles, California.
Category: Fruit Carving DVDs
SKU: 7100000678