Small Granite Mortar & Pestle 6"

,

Imported from Thailand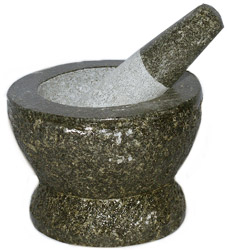 Jamie Oliver has made the granite mortar and pestle set required modern cooking equipment. This petite version is perfect for grinding small quantities of dried spices, garlic, fresh herbs and even pills. The non-porous stone makes it easy to clean, just rinse with water and drip dry. It is lightweight, making it more portable then the heavier sets. We especially recommend this set for aspiring kid chefs, college gourmets on the move and older cooks. To clean the mortar and pestle, simply rinse with warm water and drip dry after using, using soap only as needed.
(approx. 6" diameter, 4" bowl, 4" height; 6" pestle; 1 cup capacity; 5lb shipping wt.)
Availability: Ships in 2-3 business days from Los Angeles, California.
Category: Mortar and Pestle
SKU: 6231000144