Extra-Large Granite Mortar and Pestle 8"

,

Imported from Thailand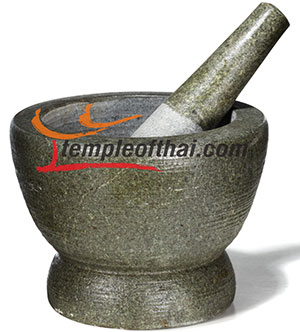 Our Thai Extra-Large Granite mortar and pestle, was featured in the Food Network Magazine September 2012 issue, is used by the Cooking Channel's Jeffrey Saad host of United Tastes of America. This granite stone set has also been featured in Italian Cooking & Living (La Cucina Italiana) for making olive tapenade.
This beautiful granite mortar and pestle is ready for any international cooking tasks including Thai food, with nearly double the bowl size of our large mortar & pestle! It is a pleasure to display on the kitchen counter and will last a lifetime.
To clean the mortar and pestle, simply rinse with warm water and drip dry after using, using soap only as needed.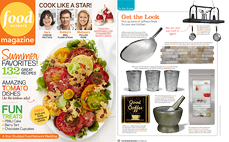 Read our blog post feature on
Jeffrey Saad grinding Thai chilies
in the Temple of Thai extra-large mortar and pestle.
IMPORTANT NOTE: Our current stock of the XL 8" stone mortar has "handles", is dark granite and textured with a gloss on the outside (so it is slightly different then the one in the image).
(approximately: 8" diameter outside, 5 1/2" bowl, 6" height; 7" pestle; approx. 3 cups capacity; 20lb shipping wt.)
Availability: Ships in 2-3 business days from Los Angeles, California.
Category: Mortar and Pestle
SKU: 6231000228