Clay Kruk Mortar with Wooden Pestle 8"

,

Imported from Thailand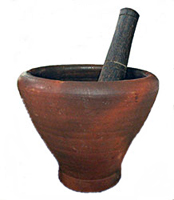 You shouldn't live without this Thai mortar and pestle (kruk) according to Saveur magazine (December 2009). Use this clay mortar and wood pestle set (kruk or klok in Thai, คลิก) for lighter duty kitchen jobs like papaya salad and nam prik chili paste. Quickly prepare curry pastes, marinades, pound garlic and peppercorns. Make spice rubs, tapenades, pestos and vinaigrette dressing.
Made from beautiful natural clay, it's both functional and attractive. The extra deep cone-shaped bowl makes this mortar ideal for combining and crushing salad ingredients, so that the flavors blend and absorb into each other. The wood pestle is extra-long, making pounding easy and efficient.
This beautiful natural earth-toned mortar makes the perfect gift for the cook who has everything and will give you years of service with careful handling and care.
These mortars are handmade from natural clay in Thailand. Colors and dimensions vary slightly, with rough patches on the interior and exterior of the mortar. Rinse with warm water and drip dry to clean, using dish soap only if needed.
Dimensions: approx. 8" diameter, 7" height; 11" wooden pestle; weight 6lb with pestle
Also see more Clay Krok Mortar and Pestles and our Thai Granite Mortar and Pestles.
Availability: Ships in 2-3 business days from Los Angeles, California.
Category: Mortar and Pestle
SKU: 6232000019