Clay Kruk Mortar & Pestle, Clay 9"

,

Imported from Thailand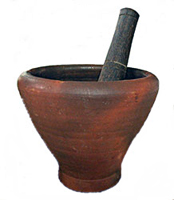 You shouldn't live without this Thai mortar and pestle according to Saveur magazine (December 2009). Use this clay mortar and wood pestle set (kruk or kleuk in Thai คลิก) for lighter duty kitchen jobs like papaya salad and nam prik chili paste. Quickly prepare curry pastes, marinades, pound garlic and peppercorns. Make spice rubs, tapenades, pestos and vinaigrette dressing.
Made from beautiful natural clay, it's both functional and attractive. The extra deep cone-shaped bowl makes this mortar ideal for combining and crushing salad ingredients, so that the flavors blend and absorb into each other. The wood pestle is extra-long, making pounding easy and efficient.
This type of clay "Laos" mortar and pestle set is part of every traditional kitchen in the Northeast of Thailand (Issan) and in Laos. In Laos the mortar is called cloke and pestle sok. This clay set is a must have tool for making Som Tom, spicy papaya salad.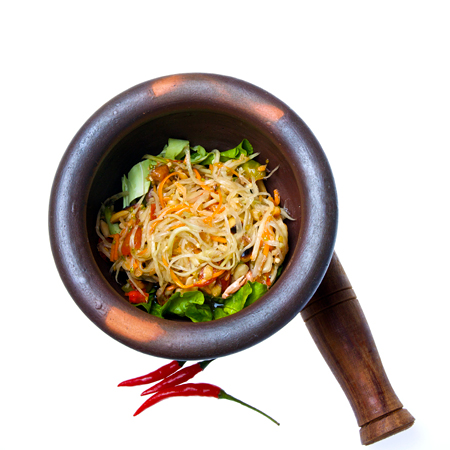 This beautiful natural earth-toned mortar makes the perfect gift for the cook who has everything and will give you years of service. To maintain the set, from time to time inspect it for cracks. Cracks are easily detected by holding the mortar by its base and tapping the rim. If the sound is clear and not muffled it most likely has no cracks. If it develops a crack, discard it and purchase a new one. Food particles can easily remain in fine cracks and have the potential of breeding food borne germs. A good Thai mortar and pestle is a relatively inexpensive item.
Be sure to keep your mortar and pestle clean by occasionally sanitizing it. After washing utensils with warm water and soap, dip into a solution of one part bleach to five parts water, then air dry. Do not rinse or wipe off immediately to allow time for the bleach to act.
This larger size mortar (9 inch) is suitable for serious cooks, parties, restaurants and catering. The mortar is made of baked clay with an unglazed semi-rough inside, which facilitates the mixing and mashing up of the ingredients. It is large enough so that you can easily pound fresh chili peppers with shredded mango or green papaya to make Som Tom Salad.
These mortars are handmade from natural clay in Thailand. Colors and dimensions vary slightly, with rough patches on the interior and exterior of the mortar. Rinse with warm water and drip dry to clean, usually dish soap only if needed.
Dimensions: approx. 9" width, 8" height; pestle, solid wood, 14" length
Also see our Thai Granite Mortar and Pestles.
Image © 2011 Marco Veringa/iStockphoto.com
Availability: Ships in 2-3 business days from Los Angeles, California.
Category: Mortar and Pestle, Pok Pok Cookware
SKU: 6232000325
Andy Ricker recommends these other great tools and cookware:
At the Least:
A Step Beyond:
For A Complete Pok Pok Kitchen: