Rice Vermicelli

,

Wai Wai

, 17.5 oz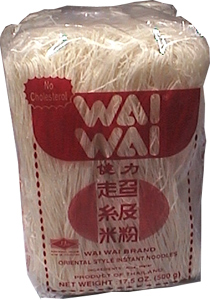 Rice Vermicelli Noodles are known as sen-mee in Thai (เส้นหมี่), may-fun in Chinese, or mee hoon in Malay. The most famous Thai dish featuring this ingredient, is the unusual Mee Krob in which the dried noodle is quickly fried in hot oil until it puffs up and then fried in a sweet and sour sauce.
For other dishes this type of noodle should be pre-soaked in either boiling water for just 3 minutes or in room-temperature water for 20 minutes before cooking (note the dried weight approximately doubles after soaking and should be drained before cooking). The preparation of the noodle dish then can be as simple as dunking in boiling water for 2-3 seconds or stir-frying. Season the noodles with oyster sauce, fish sauce and/or soy sauce and combine with meat, tofu and a green vegetable like broccoli for a quick stir-fry one-plate meal.
Prepared mainly with jasmine rice, this type of noodle can be part of a gluten-free diet. These rice flour noodles should not be confused with glass noodles (mung bean vermicelli) which are made with mung bean flour.
To store noodles keep in a cool dry place in an airtight container. Use all types of noodles within one year of purchase.
See a recipe for Thai Crispy Noodles in Sweet & Sour Sauce (Mee Krob) and Vietnamese Spring Rolls below.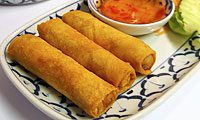 Vietnamese Spring Rolls (Cha-gio)
Vietnamese Spring Roll Wrappers:
Filling:
Seasoning:
Dipping Sauce:
Soak wood ear fungus for 2 hours. Parboil in boiling water for 5 minutes. Drain and chop finely.
Saute pork and shrimp in 2 Tbsp oil. Add water chestnuts, wood ear fungus, rice vermicelli and seasoning. Cook until done. Cool.
Dilute honey with 1 cup of cold water or beer. Brush on spring roll wrapper until it is soft. Brush with beaten egg. Place small portion of filling at bottom. Roll bottom up a little, then fold left and right sides of wrapping in. Finally, roll all the way up. Deep fry until golden brown.
For dipping sauce, mix all ingredients until sugar is dissolved thoroughly.
*Serving suggestion: Wrap spring rolls in lettuce and dip in prepared dipping sauce.
Recipe copyright Huy Fong Foods
Ingredients: Rice flour, water and salt. Product of Thailand.
Availability: Ships in 2-3 business days from Los Angeles, California.
Category: Noodles
SKU: 3520151024