Glass Noodles (Bean Thread) (2 - 1.41 oz pkgs)

,

Product of Thailand

, 2.82 oz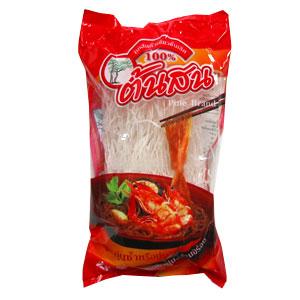 Glass noodles are also known as woon-sen in Thai, glass noodles, mung bean noodles, cellophane noodles, green bean thread noodles, dried bean thread, lunkow bean thread or fun-see in Chinese. Made of green mung bean flour, when dry these noodles are translucent, very thin and wiry like nylon fishing line, and difficult to handle. But when pre-soaked they become soft, slippery, and easier to cut. Note it is important to use good quality glass noodles made of 100% mung beans, as they retain their shape better then inexpensive ones.
Glass noodles pick up the flavors of other ingredients in a dish, similar to tofu. This works well in dishes like Baked Crab or Prawns (Ob Woon Sen Boo or Goong). For a unique crispy garnish, try deep-frying these noodles quickly in hot oil.
Made from green mung beans, glass noodles are a good source of selenium and iron, especially for vegetarians. Bean thread noodles should be considered for inclusion in a gluten-free diet.
To prepare, place noodles in a heatproof bowl, pour over hot or boiling water and soak for 5 to 15 minutes, just until tender. Add to stir-fry dishes or salads. If adding to soups, it is not necessary to soak before adding. When cooking, because these noodles tend to soak up water, add additional liquid as needed. Do not soak for deep-frying. Drop dry noodles into hot oil and remove quickly once puffed up, almost immediately.
These noodles should be a staple of your Thai pantry because they store indefinitely in an airtight container kept in a cool dry place. Packaged in 2 (40 gram) packages.
Also see Lungkow brand Glass Noodles.
See a recipe for Thai Spring Rolls, a dish which usually include glass noodles as an ingredient in Thailand.
See a video about how to make Glass Noodle Soup from Manivan.
Ingredients: 100% Mung bean flour and water. Product of Thailand.
Availability: Ships in 2-3 business days from Los Angeles, California.
Category: Noodles
SKU: 3530161025