Spring Roll Wrappers (Edible Rice Paper) 8.5"

,

Double Parrot

, 14 oz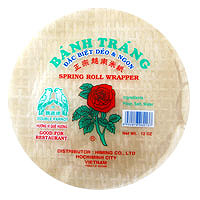 Spring Roll Wrappers (also known as rice paper, rice paper rounds, spring roll skin, edible rice paper, wraps, banh trang or summer roll wrappers) are used in both Vietnamese and Thai cuisine for preparing fresh or fried spring rolls. The circular wrappers are thin, brittle, and opaque and marked with a cross-hatched pattern.
The main raw material used for rice paper production is white rice. White rice powder is mixed with tapioca flour to make the rice paper glutinous and smooth. The thin flour and water batter is spread evenly on conveyor belts, steamed, and then transferred onto long rectangular bamboo frames. The lengths of rice paper are then sun-dried and ventilated. Finally the rice paper is cut into circles, squares, or rectangles and packaged. (Source: Chanh Khang, Rice Paper Manufacturer, Vietnam). One package contains approximately 35-40 pieces.
To prepare, submerge the rice paper into a plate of shallow water a few seconds just to soften, one at a time. Do not oversoak or the rice paper will start to disintegrate. Gently remove and roll up filled with cooked ground meat or other protein and shredded vegetables and herbs. Note that it is important to apply a little pressure, as you roll, to ensure that the roll is firm and tight.
Uncooked springrolls are called poh pia saht and can be stuffed with Chinese sausage, cucumber, tofu and omelet and served with a dipping sauce. Springrolls fried in oil are called poh pia tawt and usually are stuffed with glass noodles and shrimp or pork. For a lower calorie version fry in a non-stick pan until golden brown and bake in the oven until crisp. Serve with Mae Ploy Sweet Chili Sauce.
Spring roll wrappers are low in calories and fat and high in protein. Made from rice and tapioca flour, with no wheat products, consider including in a gluten-free diet.
Store in a well sealed container out of direct sunlight for up to one year. (Size: 8.5 inch diameter, approximately 35-40 pc. per package)
Also see small 6" Spring Roll Wrappers and large 12" Spring Roll Wrappers.
See a video about how to make Rice Paper Spring Rolls & with Dipping Sauce from Manivan.
Ingredients: Flour, salt and water. Product of Vietnam. 8.5" diameter.
Availability: Ships in 2-3 business days from Los Angeles, California.
Category: Noodles
SKU: 3540000167