Thai Cooking
The Temple of Thai often stays in Bangkok and we have searched high and low for the best hotel. We have been very fortunate to have come across the Phranakorn Nornlen Hotel some years ago shortly after it opened and have been staying there ever since. This hotel is super-friendly, a good value, loves good food and is even concerned about the environment, so you can contribute to your good karma while enjoying this quiet, beautiful and relaxing retreat. Be sure to enjoy the daily organic vegetarian breakfast, tour local food vendors with a hotel provided map and book a hotel run tour of unique, off-the-beaten path foodie destinations.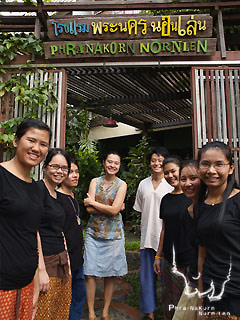 The Phranakorn Nornlen Hotel is a very unique hotel being run by environmentaly aware young Asians in chaotic, crazy Bangkok. One of the unusual objectives of this small hotel is to connect with the near-by urban community, by having local vendors as suppliers and by directing guests with maps and directions to appreciate the local restaurants, shops and street vendors.
One reviewer in fact called the hotel an anti-hotel, in the sense that it is not trying to maximize its profits at the expense of neighbors. Rather this hotel's goal is to try to induce their guest to slow down and appreciate the natural rythmn of life, even when surrounded by the urban madness.
The hotel location north of the Kao San Road area in Bangkok, is off a quiet soi (small alley) that can be tricky to locate. Once the taxi has finally found your destination, you will be greeted by a typical Thai double wooden gated door which enters into a lush garden. The sounds of tweeting birds and trickling water meet your ears, as the Bangkok traffic fades from memory. Walk across the bricked path and duck the overhanging vines to reach the reception area, which is pleasantly air conditioned. Staff are eager to meet you, with the hotel striving to be personable, greeting you with smiles and ready to assist throughout your entire stay.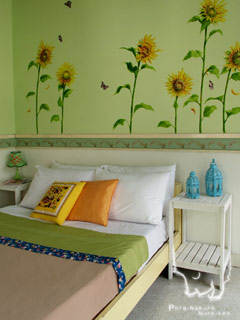 Walk down the wide halls of what formally was a 1940's Chinese hotel and be sure to appreciate the halls which are decorated with colorful full wall murals, old-world advertising signs and telephone wires. Enter your room door through antique double Thai wooden door, to find each room uniquely decorated with hand-painted flowers, ivys and turn of the century household items like tea kettles and radios.
The feeling of the room is bright and cheerful. Colored glass filters in light from the balcony which overlooks more garden greenery. A big double painted wooden bed holds a (very) firm Thai-style mattress and pillows covered with traditional Thai fabrics. Painted recycled wood shelves run the length of the wall for stashing your gear. Each room has a quirky CD player for listening to house supplied Green Music or your own tunes. There is no TV (in tune with the hotels concept), but there is a telephone for room service and outside calls. The bathroom is a quiet, dark respite with natural stone walls and a large shower head with hot and cold water. Most rooms are provided with both air conditioning and eco-friendly ceiling fan. Ground floor rooms have a small garden and second floor rooms are provided with a balcony.
The rooftop garden, which many visitors overlook, is on the 4th floor, and has a wondeful view of a giant sitting golden Buddha located in a nearby wat (temple). If you walk towards the far end of this large roof you will find the hotel's organic urban garden, where many of the fresh herbs and some vegetables for the kitchen are grown. It is a very ambitous undertaking!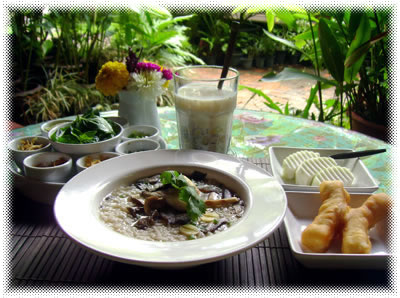 Breakfast is served at the hotel as part of the room price. It is is a set menu and is mainly vegetarian. This is not your typical one egg sunny side-up with white bread affair, but rather a lovingly prepared full course repast that is delightful even if you are not vegetarian. The kitchen uses as many organic seasonal ingredients from local farmers as possible. On one of the days we stayed, we were served kao dtohm, boiled brown rice and mushroom soup served with numerous healthy side dishes including toasted black and white sesame seeds, tiny fried salted anchovy fishes, boiled lotus seeds, cilantro, scallions, basil and pickled radish all artfully presented. Organic guava juice and fresh espresso coffee were the beverages on offer for the day. The concept is slow food, to protect the environment and your good health.
And as we mentioned earlier, to fit in with the concept of sharing with the community - lunch and dinner should be eaten outside in the neighborhood which is a food lovers paradise. The hotel staff will provide a printed map to help locate the recommended street food delights. Or if it is raining or you are jet-lagged the hotel also has fresh juices and simple sandwiches available throughout the day.
If you're a foodie, like we are, be sure to take one of the food tours on offer via Donald Woo, the hotel's manager. These small group guided tours are designed to take you off the beaten path, to places that otherwise would be hard to reach on your own. Nakhon Pathom is the destination of one of the more popular tours, and is known for its idyllic scenery and an open food market which harkens back to the time of King Rama VI. A luxury van takes you about an hour outside the city, and a Thai speaker is your guide to the local specialties. The return trip involves a meal on a river boat. See Trufflers.com for more details about the hotel's food tours.
Once back from your food tour or a hectic day of sight seeing and shopping you will be very happy to return the common courtyard area of the Phranakorn Nornlen Hotel, which is a pleasant space for hanging out. A sala decorated with paintings by local artists offers board games, PC computers (free for your use) and cable TV (if you must!). This is a great area if you are traveling with children. WI-Fi is available and is also accessible from the rooms. Thai crafts, fabrics and handmade items are on display and for sale in Thai-style wood and glass cabinets and sometimes the hotel holds classes on how to make traditional handicrafts.
The location is a 20 minutes walk from Khao San Road and conveniently located for key tourist attractions such as the Grand Palace, Wat Pho, and China Town. This could be a lovely honeymoon hotel for couples who appreciate old world ideas and want to see the real Bangkok. Before deciding you should visit the hotel's website and read more about the hotel, as it is not for everyone. But do consider that the Phranakorn Nornlen was chosen as the Best Hidden Gem Hotel by TripAdvisor® in its 2008 Travelers' Choice® awards. For details about that see TripAdvisor.com.
This is a smoke-free hotel, which is appreciated by two gorgeous resident parrots who are the hotel's mascots!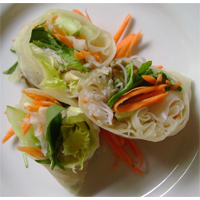 Phranakorn Nornlen Hotel
46 Thewet soi 1, Phranakorn, Bangkhunprom, Krungkaseam, Bangkok, Thailand Tel: +66 26288188-90 Fax: +66 26288600
See a recipe from the Phranakorn Nornlen for Thai Spring Rolls.
Welcome to the Temple of Thai, online grocery for Thai food!