Dried Anchovy (Anchovies)

,

Product of Japan

, 3.0 oz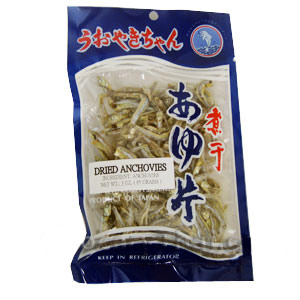 Dried Anchovy, is a type of dried preserved fish which popular through out Asia. In Thailand it is often an integral part of spicy salads (called
yam
), like
Yam Sahm-o
.
Sahm-o
a type of large sour citrus fruit similar to grapefruit is tossed with a sweet and sour dressing and the crispy fried anchovy to make a salty, sweet, sour and spicy salad. It is also a common condiment to Joke (also known as
Kao Dtohm
or Boiled Rice Soup).
Dried Anchovy (ikan bilisikan teri)can also be used to make Indonesian sambals and as a base for fish stocks. In Korea these small-sized dried anchovies are used for a side dish called "Myulchi bok keum", in which they are toasted and mixed with soy sauce, sugar, and hot pepper paste.
For an exotic snack shallow fry in vegetable oil over medium low heat until crispy. Sprinkle with sugar to taste or toss with deep fried basil or fresh curry leaves if desired. Cool and store in an air-tight container.
Ingredients: Dried anchovy and salt. Product of Japan.
Availability: Ships in 2-3 business days from Los Angeles, California.
Category: Pickled & Preserved
SKU: 1800000373