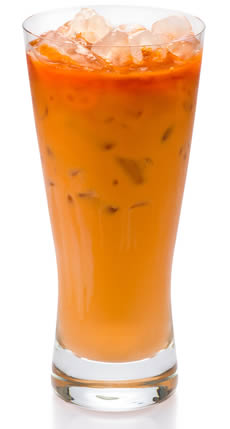 Thai iced tea, Cha Yen or Chaa Yen in Thai, is a popular drink widely available in small restaurants and street stalls in across Thailand. This simple and refreshing Iced Thai Tea recipe comes from Kasma Loha-Unchit, Thai cooking teacher and cookbook author.
Thai iced tea is the perfect drink for a hot summers day (see our latest blog post "Ice is Nice: Thai Iced Tea & Other Cool Drinks") or can be served hot as a delicious warming drink if the summer weather is not as warm and dry as you would like!
Shop for ingredients such as lemongrass and Thai basil in our Thai food, Asian cookware & fruit carving items in our online Asian grocery store.
Image © Glenn Price. Used under license from Shutterstock.com