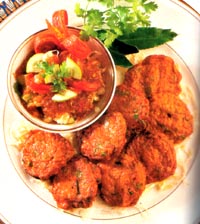 Fried Thai Fish Cakes (Thod Mun Pla)

Fried fish cakes make a great snack on their own dipped in either Sriracha chilli sauce, sweet chilli sauce or you can make your own cucumber relish (recipe below).

Ingredients:
500 grams white fish meat (e.g. ladyfinger) , minced ot chopped
1 egg
1/2 cup string beans, sliced fine
3 tbsp. freshkaffir lime leaves, minced or chopped
1 tsp. sugar
1 tsp. salt
1 tbsp. of red curry paste
3 cups cooking oil for frying

Ingredients for Cucumber Relish:
1 cup diced cucumber
1/2 cup ground roasted peanuts
1/2 cup sugar
1/2 cup white vinegar or rice wine vinegar

Preparation:
1. Put all the ingredients in a large bowl and mix well knead with the hand until it sticks.

2. Spoon the mixture 2 tbsp; shape into small patties about 3" in diameter and deep fry in vegetable oil until golden brown.

3.Serve with Sriracha chili Sauce, sweet chilli sauce or cucumber relish.

Cucumber relish:

Mix sugar and vinegar in the pot and heat. When the mixture comes to the boil, remove from the heat and allow to cool. Spoon into a cup, add diced cucumber and top with ground peanuts.

Recipe copyright 2002 Sangdad Books.