Vegetarian Pad Thai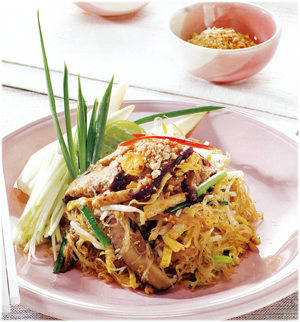 This vegetarian Pad Thai noodle recipe is made with bean thread noodles for an interesting change in texture and taste. The addition of firm tofu and a tamarind-based sauce insures this will be one of the best Pad Thai recipes you've ever tried!
Ingredients:
1/4 cup + 1 Tblsp. light soy sauce
1/4 cup + 2 tsp. unbleached sugar
1/4 cup tamarind juice
2 1/2 Tblsp. vegetable oil
1 Tblsp. shallot, chopped (or red onion)
1 Tblsp. salted Chinese radish, chopped
1 tsp. ground red chili
1/4 cup hard white tofu, cut into small pieces
3 Seasoned Shitake Mushrooms (visit site for recipe), cut into strips
1 pack (100 gm) dried bean thread noodles, soaked and cut into 4" sections
1/2 cup water
1 egg
1 cup bean sprouts
3 Chinese chives, cut into 1 1/2" sections (or spring onions tops)
2 Tblsp. ground roasted peanuts
Omelette for garnish
Assortment of fresh vegetables
Preparation:
Boil together the tamarind juice, soy sauce and sugar for about 10 minutes to make a vegetarian Pad Thai Sauce. Set aside to cool.
Preheat a wok over medium heat. When it is hot, add half of the cooking oil. Add chopped shallot (or red onion) and fry until fragrant. Add preserved Chinese radish, ground red chili, tofu and Seasoned Shitake Mushrooms. Cook until done. Add noodles and water. Toss and cook until noodles are done. Season to taste with 1-2 Tblsp. of the Pad Thai Sauce from Step 1.
With a spatula, remove the noodles to the side of the pan and add the remaining oil. Break in an egg, stir and cook until almost set. Fold the noodles over then add Chinese chives (or scallions) and bean sprouts. Stir-fry and toss to combine, turn off the heat.
Remove to a serving dish, sprinkle with roasted peanuts and garnish with omelette. Best served with fresh vegetables. Serves 2

Source: Thai Vegetarian Cooking © 2008 Sangdad Publishing available for purchase in our online grocery.
See more of our unique selection of Thai cookbooks and cooking DVD's.
Onion Flower Garnish
Spring time brings many delightful seasonal fruits and vegetables for the creative carver to use as his/her medium. At this time of renewal, the leek, a member of the onion family, is especially anticipated. Celebrate the beginning of a new growing season with this gorgeous but easy leek flower garnish.
Source: The Art of Vegetable Garnish © 2003 Panida Chobvanicha Press
See more Fruit & Vegetable Carving books, tools, books and DVDS.