Making the Pok Pok Coconut Rice Recipe (Khao Man Gati)
Following up on our last post on Andy Ricker's recipe for Thai Sweet Pork (Muu Wan), we present the second part of his menu for Pok Pok's Papaya Salad with Coconut Rice & Sweet Pork (Khao Man Som Tam) from the new Pok Pok cookbook. This easy savory Coconut Rice recipe is made in an electric rice cooker and requires just 5 pantry ingredients.
Coconut Rice Recipe (Khao Man Gati)
In this simple recipe, Thai jasmine rice is cooked in coconut milk, instead of the usual water, with a just bit of sugar and salt added to balance the flavors. Employing an electric rice cooker cuts the actual working time to a minimum, making it suitable for the busy work week. Andy pairs it with tart papaya salad and sweet pork, but this savory rice dish can easily be part of other Asian or fusion menus.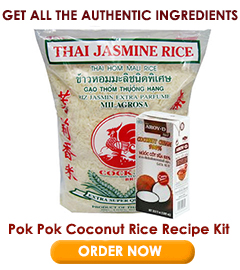 ---

---