The Story Behind Andy Ricker's Pok Pok Sensation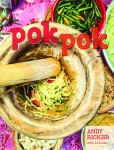 One of the most popular cookbooks of 2013, Pok Pok: Food and Stories from the Streets, Homes, and Roadside Restaurants of Thailand by Andy Ricker and JJ Goode has been a phenomenal achievement. Listed in AZ's top cookbooks of 2013, Andrew Zimmerman comments "Andy Ricker's a rock star and I adore his new cookbook. Perfect for people who want to make Thai food at home that rivals an Asian grandmother's. Seriously." The Pok Pok cookbook also makes Epicurious' Best Cookbooks of 2013 along with many other top book lists for the year.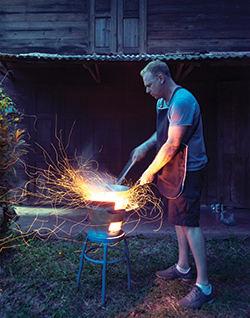 If you have had the good fortune and fortitude to have eaten at one of the Pok Pok restaurants, it comes as no surprise that the cookbook has been a galactic success, when you review Andy Ricker's career as a rising culinary star. His undying enthusiasm for true Thai food is often cited as the key to his long list of accomplishments. He eshews the title chef, saying he only recreates the dishes that he loves in Thailand as closely as possible here in America. For at least one month every year, Andy takes off from his hectic schedule, on a culinary journey to Asia, hunting for new ideas for his expanding line of restaurants. His cookbook is evidence of these cooking adventures, with beautiful food shots taken on location just outside of Chiang Mai.
Andy began his culinary expeditions as a young backpacker, spending many years traveling the world and working in restaurants along the way. Eventually, the food of Northern Thailand (Lanna) become a major influence after a visit to an old friend and his Thai wife in Chiang Mai. His first restaurant, Pok Pok was born in a shack in 2005 in Portland, Oregan focusing mainly on this regional Thai cuisine. Subsequently Pok Pok won much acclaim and was named "Restaurant of the Year 2007" by The Oregonian.
Since then, the seemingly unstoppable Andy has gone on to found even more restaurants and bars – in 2009 he opened Ping (RIP), an Asian-fusion restaurant that wowed dinners and food critics alike. In the same year he opened the Whiskey Soda Lounge serving his own Thai-inspired cocktails creations. In 2011, he was named the James Beard's "Best Chef, Northwest". More recently Pok Pok Noi in New York, Sen Yai in Portland and Pok Pok NY, have joined the family, all of which have caused much sensation and firmly entrenched Andy on the American culinary map. Conde Nast Traveler has even cited the addictive Pok Pok NY's Fish Sauce Wings as one of their Best New Dishes in the World 2013.
To insure that you can successfully recreate Andy's Pok Pok Cookbook recipe's at home, we have been working with both Andy and JJ to put tgether all the ingredients and cookware you need: Pok Pok Ingredients; Pok Pok Cookware and Pok Pok One Cick Cooking Kits.
Be sure to follow us on Facebook for your chance to win one of our GETTING STARTED KITS in the upcoming weeks along with weekly giveaways of Kiwi Kom Kom knives. More details will be provided on our Facebook page. If you have any questions for Andy or JJ, please post them below and we will get you answers. Thanks for reading!
Photos: top, © 2012 Austin Bush; bottom, © 2013 Pok Pok