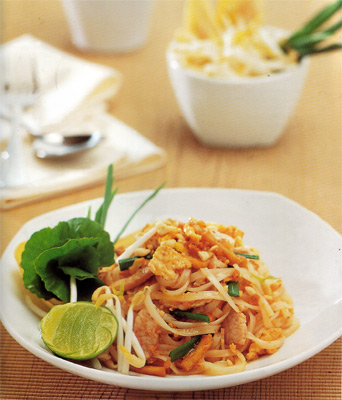 Pad Thai
Pad Thai, a flavourful combination of stir-fried noodles, tofu, bean sprouts and egg is one of the country's best-known noodle dishes. This dish, as with so much Thai food uses the combination of salty, sweet and sour to great effect. For a perfect lunch, serve with Thai iced tea.
Pad Thai ingredients:
1 16 oz pkg (about 4 cups) dried rice noodles, soaked 3 minutes
2 oz (50 grams) pork, cut into small pieces
3 eggs
1 pc bean curd (tofu), diced
9 oz (250 grams) bean sprout
2 oz (50 grams) Chinese chives (or substitute scallions)
1 tbsp chopped shallot
1 tbsp chopped garlic
3 tbsp chopped salted Chinese radish
1 tsp chili powder
1/2 cup ground roasted peanuts
4 tbsp sugar
3 tbsp fish sauce
4 tbsp tamarind juice or vinegar
1/4 cup water
8 tbsp cooking oil
Fresh vegetables: bean sprouts and lime wedges for garnish

Fry shallot and garlic in 3 Tbsp of oil over medium heat until fragrant. Add noodles and water, stir until tender. Season with sugar, fish sauce and tamarind juice. Stir well, then push the noodles to the side of the wok.
Add 3 tbsp of oil to the same wok, add pork, salted radish, bean curd and chili powder. Saute until the pork is done, toss well with the fried noodles, then push the mixture back to the side of the wok again.
Put 2 tbsp of oil in the wok, break the eggs in and stir until done. Toss again with the noodles, add the bean spouts and Chinese chives if using. Stir until everythign is done.
Transfer to a serving dish, sprinkle roasted peanuts on top. Serve with fresh vegetables.
Serves 4.
Recipe copyright 2002, Sangdad Publications, Popular Thai Cuisine, pp. 206-207.


Popular Thai Cuisine $36.95
Sale price $29.95
Step-by-step photographs. You'll find 111 of your favorite Thai recipes like Satay, Spring Rolls, Pad Thai, Thai Curry, and more in this excellent cookbook. Each recipe is laid out with step-by-step photos and directions with a beautiful full page photo of the finished dish. Glossy paper, softcover, 247 pages. Copyright 2002. Sale price extended through September 30.