Authentic Thai Food

,

Sangdad Books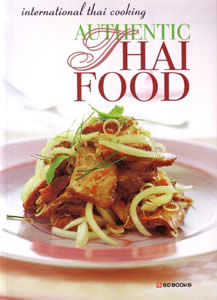 An introduction to Thai cooking: 46 recipes for appetizers, soups and curry, stir fry and spicy salads. Each recipe is presented on two pages, with the recipe given in both Thai and English on one page and a full page color photo of the dish.
APPETIZERS DISHES: Golden Bags (Tung Thong), Fried Egg Rolls (Poh Piah Thod), Omlette with Minced Shrimp (La Tiang), Steamed Tapioca Balls filled with Pork (Sa-Khu Sai Mu)
SOUP AND CURRY DISHES: Sour and Spicy Soup with Mackeral (Tom Som Pla Tu Sod), Hot and Sour Seafood Soup (Tom Khlong), Clear Soup with Pork, Shrimp (Kaeng Jeut Ruam Mid), Beef Soup (Neua Tun), Peppery Shrimp and Vegetable Soup (Kaeng Liang Kung Sod), Sour Curry with Water Spinach and Shrimp (Kaeng Som Phak Bung Phirk Sod Kab Kung), Red Curry with Pineapple and Shrimp (Kaeng Khua Kung Kab Sappharod), Yellow Curry with Chicken or Beef (Kaeng Ka-ri Kai Rue Neua), Massaman Curry Beef (Kaeng Matsaman Neua), Green Curry Chicken (Kaeng Khiao Wan Kai), Red Curry Roasted Duck (Kaeng Phed Ped Yang), Red Curry Chicken with Winter Melon (Kaeng Khua Fak Kab Kai), Penang Beef (Pha-Naeng Neua), Pork in Banana Leaf (Hor Mok Mu), Baked Fish (Op Pla)
STIR-FRIED DISHES: Fried Ginger Pork or Chicken (Mu Reu Kai Phad Khing Sod), Pork Fried with Chilies (Mu Phad Phrik Sod), Pork fried with Ginger and Long Beans (Phad Phrik Khing Mu Kab Thua Fak Yao), Drunken Stir-fry Shrimp (Phad Khi Mao Kung), Fried Mixed Vegetables (Phad Phak Ruam Mid), Fried Shrimp in Curry Paste (Phad Phed Kung Pla Kao Rad Phrik Kaeng), Omelet with Minced Pork (Khai Jiao Mu Sab), Fish Cakes (Thod Mun Pla), Chicken in Pandanus Leaves (Kai Ho Bai Teui)
SPICY SALAD DISHES: Spicy Seafood Salad (Yam Thale), Glass Noodle Salad (Yam Wun Sen), Mushroom Salad (Yam Hed Fang), Grilled Beef Salad (Yam Neua Yang), Long Eggplant Salad (Yam Ma-Kheua Yao), Chili Dipping Sauce with Sweet Pork (Nam Phrik Long Rua Lae-Mu Wan), Northern Tomato Pork Chili Dipping Sauce (Nam Phrik Ong), Shrimp Paste Chili Dipping Sauce (Nam Phrik Kapi), Coconut Dipping Sauce with Ham (Lon Ham)
ONE-PLATE DISHES: Rice Vermicelli with Spicy Sauce (Khanom Jeen Nam Phrik), Rice Vermicelli with Curry (Khanom Jeen Nam Ya), Pad Thai with Shrimp (Phad Thai Kung Sod), Coconut Noodles (Mee Kati), Mee Krob Noodles (Phad Mee Krob), Pork with Garlic and Pepper (Khao Mu Thod Krathiam Phrik Thai), Fried Pork with Basil (Khao Phad Ka-Phrao Mu), Purple Fried Rice (Khao Phad See Muang), Fried Rice with Pork or Shrimp and Galangal (Khao Phad Mu Reu Kung Sai Kha)
Beautiful full page photographs of every dish. Includes both English and Thai translation. Published by Sangdad Books, 102 pages, high quality glossy paperback. Imported from Thailand.
Availability: Ships in 2-3 business days from Los Angeles, California.
Category: Asian Cookbooks
SKU: 7000450096