Cooking Thai Chicken

,

Sangdad Books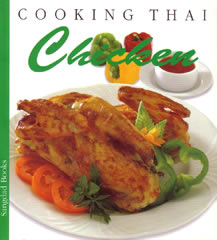 In Cooking Thai Chicken you will find salads, curries, soups and stews, stir fries, deep fries, grills, roasts and steamed dishes. With full color, full page photographs of every dish.
Recipes include: Barbequed Lemon Grass Chicken, 'Laab Gai' (spicy ground chicken salad) and popular 'Dtohm Dtay Gai' (chicken with galangal in coconut milk soup) and Thai-style Stewed Chicken Wings.
In addition there is an introduction to curry pastes and a picture glossary of exotic ingredients. Sangdad Publications, softcover edtion of 71 pages.
Also available in this series: Cooking Thai Prawns
Availability: Ships in 2-3 business days from Los Angeles, California.
Category: Asian Cookbooks
SKU: 7000450162