Crying Tiger: Thai Recipes from the Heart

,

Jasmine Publishers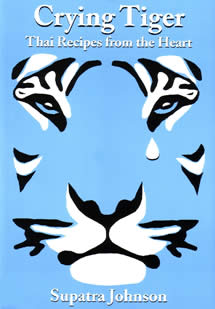 Learn easy Thai recipes with this authentic Thai cookbook Crying Tiger: Thai Recipes from the Heart, written by noted cookbook author and experienced cooking instructor Supatra Johnson. The wealth of Thai cooking know-how, presented in a simple and straightforward way, will make this book a great gift for any aspiring Asian chef.
This book features 130 easy Thai recipes and over 200 b&w photos, along with a guide to ingredients and equipment used in Thai cooking. There is also a special section on cooking for kids! See a recipe from this book by clicking the link below.

Thai Barbeque Chicken


Lemon Grass Chicken

Supatra Khommuangpak Johnson as well as a cookbook author and cooking instructor is also a restaurateur. She has been teaching Thai cooking classes for over 5 years. Now, with Crying Tiger, your own Thai cooking skills can benefit from Supatra's experience.
Read this review of Crying Tiger by Phyllis Louise Harris, founder of Asian Culinary Arts Institutes.
Midwest Book Review, June 2004:
"Written by a professional Thai cooking instructor and former owner of an Asian grocery, Crying Tiger: Thai Recipes From The Heart is a Thai cuisine cookbook written especially for those who may or may not be familiar with the basics, ingredients, and preparation techniques of Thai cuisine. A wealth of black-and-white photographs illustrate the basic directions.
An introductory section features illustrations, descriptions, and recommendations of where to find ingredients unusual to western cooking, from plantain bananas to dried silver bean thread noodles (and many other types of noodles) to green papayas, thai eggplant, palm & coconut sugar and much more. A superb, user-friendly introduction to creating high-quality Thai food." Copyright © 2004 Midwest Book Review.
City Pages, Minneapolis, August 25 2004:
"(This book)...knows what we don't know (like, say, the difference between black soy sauce, soy sauce, light soy sauce, and soyabean sauce)."
Phyllis Louise Harris, founder of Asian Culinary Arts Institutes:
"It is a handy reference for anyone confused by the difference between things such as ginger and galanga, yu choy and mustard green, or holy basil and Thai basil."
Availability: Ships in 2-3 business days from Los Angeles, California.
Category: Asian Cookbooks
SKU: 7000450243